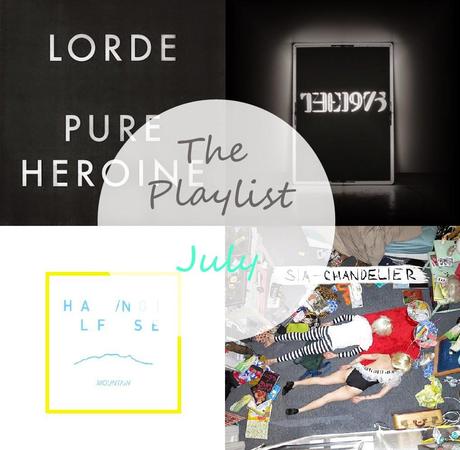 This month I've been trying to make the most of the sunshine and I think my playlist has turned towards pop...and not the typical pop-punk I opt for.
I've had Lorde's album on repeat this month. I still can't believe she's only seventeen! I remember hearing 'Buzzcut Season' over a year ago and shrugging it off a bit, but now the summer has come around and I've actually given the whole album a listen, I highly recommend it. If someone can teach me to play 'Royals' - the cup version, I'd be very grateful.
The 1975 are one of those bands that I kind of didn't really intend to like, but I couldn't help myself. I spoke to Matt back when I was Music Editor for a print magazine (and online) around this time last summer and they hadn't fully taken off. Their self-titled debut album just makes you feel happier about things and it's got such a summery vibe. I challenge you to listen to 'Chocolate' and not want to dance!
HalfNoise is the new project by ex-Paramore drummer, Zac Farro. I feel like I'm a bit late to this one but when I found 'Mountain' earlier this month, I was hooked. It's not at all what I'd expected but I'm really impressed; think Sigur Ros mixed with M83 and maybe a hint of Coldplay. Zac wrote and recorded the album in New Zealand and some of the shots in the landscape shots in the video are amazing. 
I've been aware of Sia since 'Breathe Me' but 'Chandelier' has been one of those songs I can't get enough of lately. In May, one of the guys I was working with for our dissertation showed me the video and it's grown on me ever since. I think the video is incredible, some very impressive steadicam work and the girl is so good at dancing! Check it out if you haven't already!
What's been on your playlist this month?
You can follow me on
Bloglovin
 | 
Twitter
 |
 Facebook
 |
 Instagram | YouTube