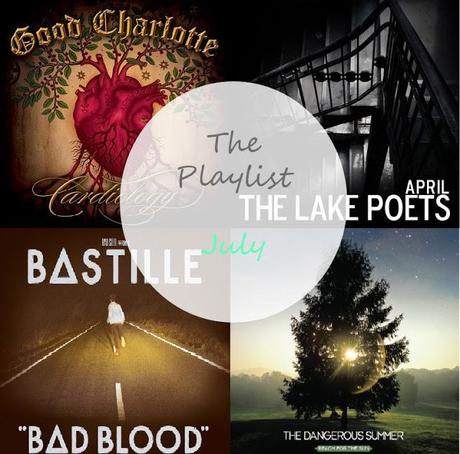 This month I've been listening to quite a lot from only a handful of bands. I didn't want it to be a repeat of last month's playlist, but there's definitely been some Jimmy Eat World and Yellowcard again. They're just two bands I can't help but go back to.
Good Charlotte are a bit of a blast from the past I guess. I had no idea that they even had a new album out (although can you really call it new if it was 2010 when it was released?) until my boyfriend put this on in the car when he was taking me to Taybarns. It's a great album and 'Counting The Days' immediately stood out to me. Just listen to that chorus!
The Lake Poets are probably the lesser known of the four bands I'll talk about, unless you're from the North East. I was lucky enough to go see them recently and I was blown away. I'd seen Martin play an acoustic set for the Sunderland Soundscape Event (post here) but to see the full band, plus a brass band and the collaboration between them, it was just amazing. April is the most recent single which has been played on Radio 1, which is so exciting. I remember when I was live on Radio 1, it was so scary but amazing at the same time! The video for April was directed by one of the guys who's in the same band as my boyfriend too, little fun fact there!
Bastille are a band I think everyone has heard of now. Bad Blood is a really great album and it's one of those that's perfect for summer. It's so hard to pick out one song I like best as it's such a strong album. Even their music videos are impressive, look at the one for Pompeii for example! I'm looking forward to seeing the guys and having a chat with them on their tour later this year as I've heard they're really good to see live!
The Dangerous Summer are another band I've got lined up to see later this year, the day after my birthday actually. My boyfriend has already seen them before and reckons I'll really enjoy it, he's actually responsible for getting me into their music and 'Where I Want To Be' was the first song I ever heard by them (so when I listen to it, it reminds me of him).
What've you been listening to this month?

You can follow me on 

Bloglovin

 | 

Twitter

 |

 Facebook

 |

 Instagram