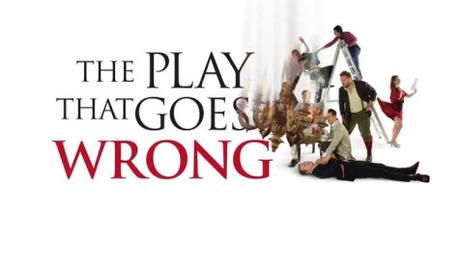 Cast
Graeme Rooney – Trevor
Katie Bernstein – Annie
Patrick Warner – Chris
Jason Callender – Jonathan
Edward Judge – Robert
Edward Howells – Dennis
Meg Mortell – Sandra
Alastair Kirton – Max
Natasha Culley – Clire Rice
James Watterson – Arthur Ingleberry
Helana Muir – Doris Henderson
Matthew Howell – Jimbo Jones
Venue: Theatre Royal, Newcastle
Date: Wednesday 18th January 2017

The Play That Goes Wrong has been a smash hit in the West End winning the Olivier Award for Best New Comedy in 2015. It closed in London in September 2016, and has just started it's UK Tour. With Newcastle being the second venue it is visiting during its seven month run. Everything about it is hilarious from the very first moment that you arrive in the Theatre, make sure you head inside earlier than normal although you really should be in your seat well before five minutes to go! With members of the cast walking around the theater checking on different things welcoming you, it really does help create a great atmosphere before it even properly starts.
The story is based around the Cornley Polytechnic Drama Society putting on a production of Murder at Haversham Manor, which is all very detailed in the programme with information about the actors taking on the parts but for that play. See how clever even that is, so well worth buying the programme certainly the best I have bought in recent years. Offering even more to what we are about to see on stage, creating a bigger background and more information.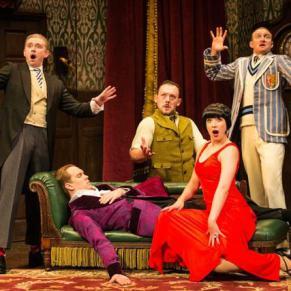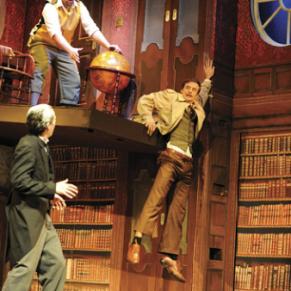 The play pretty much shows everything that can go wrong during Theatre productions but all in one very unlucky show. You are left wondering what could really go wrong next, with the forgetting of lines, prop problems, stage problems, light problems, you name it and we see it during this play. Actors coming in at the wrong times, pronouncing things wrong and even ending in a loop with the same lines over and over again.
The brilliance of the play is how extremely clever it is, surely having to say things wrong and slapstick moments constantly has to be very difficult to actually do. I mean it really is hilarious and it will have you laughing out loud so many times. Certainly a very good way to kick off my Theatre going in 2017. With a truly funny comedy play that pokes fun at Theatre and how difficult productions can be. Has to raise respect for all of the other shows you have seen when you know what they are dealing with to ensure that everything is well perfect.
Each member of the cast was engaging and looked to be fully enjoying the role they were in, as I mentioned earlier it certainly cannot be easy in a play like this one. So many small details were just brilliant and I really can understand why it was so successful in the West End, has embarked on this tour, moved over to Broadway and getting ready to open in Australia as well. Showing that everywhere is really appreciating British humor at its very best.
Very pleased to catch this in Newcastle at the start of its run, the set design was impressive especially as when you first sit down in your seat and look at it you just know so many crazy things are going to happen to that and the characters we had previously seen walking around the Theatre looking for a dog at the start! With all of that though you also find yourself very interested in the story to the play that they are putting on and wanting answers on the murder, which I guess really shows how engaging it is in many different ways!
Well done on a fantastic production!