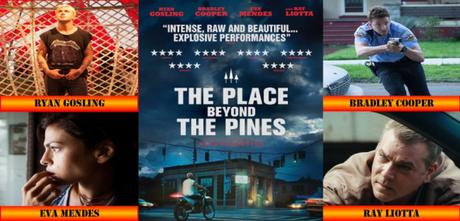 Plot: A motorcycle stunt rider turns to robbing banks as a way to provide for his lover and their newborn child, a decision that puts him on a collision course with an ambitious rookie cop navigating a department ruled by a corrupt detective.
There may be spoilers the rest of the review
Verdict: Compelling Story Telling
Story: The Place Beyond the Pines starts as motorbike traveling stunt man Luke (Gosling) learns that his fling the year before with Romina (Mendes) has had a child. Luke quits his traveling to be around to help raise his kid even though she has moved on with her life with a new man.
Luke turns to a life of crime robbing banks with his partner Robin (Mendelsohn) as he is trying to build a life with his own little family. This life runs Luke into rookie police officer Avery (Cooper) who is trying to climb the ranks of the force who catches the eyes of a ring of corrupt cops.
The Place Beyond the Pines tells us three stories in the order they unfold over a span of 16 odd years. This really works because when one chapter finishes it roles straight into the next on with fresh characters and then on to the final one. All of these stories are tied together by the events from the previous too. This bad side to this film is that you do get sold on the idea of certain characters when this is a much deeper character piece. This is a very dark story and is one I full believe is worth the watch.
Actor Review
Ryan Gosling: Luke is a stuntman that travels around America with his act, when he finds out he has a child he wants to start a normal life but the only way he can make money is to turn to crime. As his crime spree continues his risk becomes more apparent along with his violent nature coming to the foreground. Ryan is good in this role being very uneasy throughout but well spoiler he isn't around as long as he should be.
Bradley Cooper: Avery is the rookie cop that finds himself thrown into the limelight after stopping the criminal at large but is he ready for this new life which is including corrupt cops. Bradley is good in this role but we also only see him for half of the film.
Eva Mendes: Romina is the woman that Luke had a fling with while on tour, she now has a child while moving on with her life, she doesn't know whether to let Luke back in but is willing to let him get to know his own child. Eva is good in this role where we see her character go through all of the emotions.
Ray Liotta: Deluca is a cop that wants to bring Avery on his ring of corrupt cops always looking to make something for themselves. He has been leading other cops astray for years but will this be the end for him? Ray is always good for a shady character in a film.
Support Cast: The Place Beyond the Pines has a supporting cast that work with both sides of the stories to help push both Luke and Avery in the directions their stories take.
Director Review: Derek Cianfrance – Derek does give us three very compelling stories that all connect through one moment.
Crime: The Place Beyond the Pines gives us a range of different crimes going on with robbery, corruption and drug abuse.
Thriller: The Place Beyond the Pines does keep us on edge as the story unfolds year by year.
Settings: The Place Beyond the Pines makes us feel like we are part of this small neighbourhood where the events have all taken part.
Special Effects: The Place Beyond the Pines has great effects when needed but is more story driven.
Suggestion: The Place Beyond the Pines is a film I really do think the story telling fans will enjoy but don't go if you are a fan of just a star in the film. (Try It)
Best Part: The stories just work well.
Worst Part: Sold very differently.
Believability: No
Chances of Tears: No
Chances of Sequel: No
Post Credits Scene: No
Oscar Chances: No
Budget: $15 Million
Runtime: 2 Hours 20 Minutes
Tagline: One moment can change your life.
Overall: Brilliant Story telling from start to finish
Rating