The Pizzeria promised to deliver the authentic tastes of Italy with their signature pizza's, pasta's and salads. Located on the Delmia Circle in JP Nagar. The shop mostly caters to home delivery but sometimes few customers do drop by for dine-in. The place is small and the décor is decent. Don't expect much here as this is not their strong point. The seating inside comprises of wooden chairs and table. The menu here comprises of Italian while some are given an Indian twist.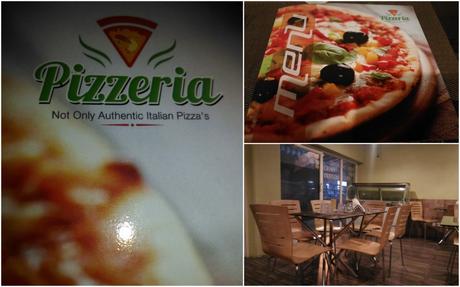 As we made ourselves comfortable, we ordered for the Primavera in Spaghetti. The order took around 10mins and came out piping hot! This pasta was made in white cream sauce with a hint of olive oil along with a variety of veggies. Did miss a piece of garlic bread with it though. The taste of the pasta was delicious and everything came together so well. The roasted red and yellow bell peppers gave this dish a bit of a smoky taste.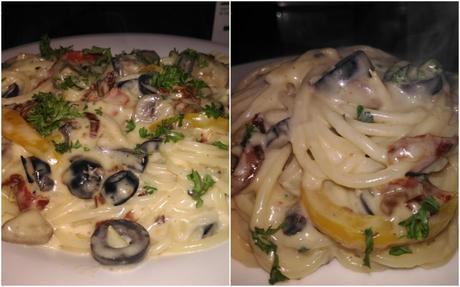 Next we tried the large Kamarina Pizza. The base of the pizza was a thin crust along with veggies like red and yellow pepper, olives, spinach, sun dried tomatoes, jalapeno and pickled onions. Again the pizza was delicious. The use of sun dried tomatoes gave this pizza a bit of a tangy taste while the spinach gave it a healthy outlook. The outlet packed few of the pizza slices we left over.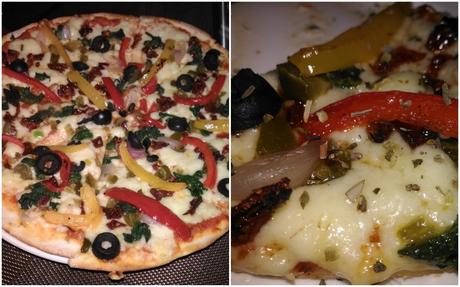 The service was good and the value for money was decent. The good thing here is the fact that the prices are inclusive of all taxes. I would highly recommend for dine-in as the taste of piping hot pasta is totally different than 45mins old warm pasta.
The Scorecard:-
Food/Taste – 8/10
Service – 7.5/10
Value for Money – 7.5/10
Ambiance – 6.5/10
Quantity/Quality – 7.5/10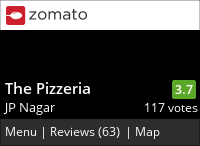 Overall Rating – 3.7/5
Delicious food.