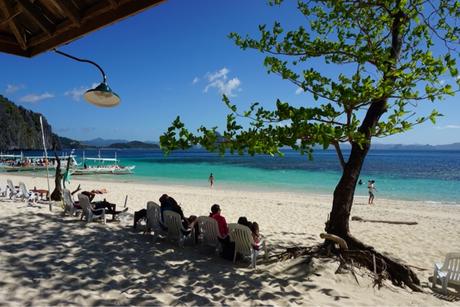 The Philippines initially wasn't on our radar. Thailand, yes. Cambodia, yes. Vietnam, yes. The Philippines however, we'd heard very little about, and hadn't considered it as a destination. 


So what do you need to know about the Philippines? The headlines - stunning scenery, crystal clear seas, incredibly friendly people and an emerging traveling scene. We spent two weeks here and in hindsight would have much longer.
We flew to Manila from Heathrow, via Doha, with Qatar airways. It took about 14 hours, in which I managed to get about 30 minutes sleep, so when we arrived we were knackered. We'd not heard excellent reviews of Manila. In fact, we'd originally planned to bypass it all together and fly straight out to Palawan. But when AirAsia brought forward our connecting flight to a time we couldn't have met, we booked a hotel near to the airport instead. We landed, slept, flew again. 
One thing you learn very quickly about the Philippines is that getting around takes time. No one is really sure how long (!), it's just longer than you'd expect... so factor this in to any travel plans in the Philippines. 
We decided upon Palawan as our main destination, an island about an hours flight south of the capital Manila. We had considered other destinations like Boracay, Coron and Cebu, but soon realised travel between islands is fairly costly and can be time consuming. So Palawan it was, and we flew into Puerto Princesa. Staying just one night here in a gorgeous hotel - Paboreal Boutique Hotel - which we decided to book again for a couple of nights before our flight out of Palawan. Such friendly people, a gorgeous pool, comfortable air-conned rooms and good wifi; it ticked all the right boxes.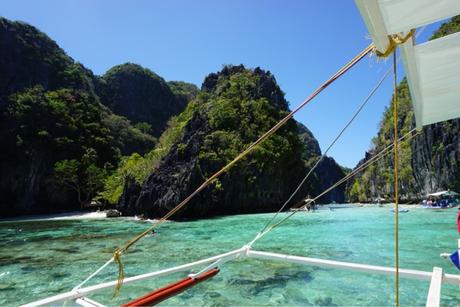 When coming back to Puerto Princesa the second time we ate in town at Bona's Chaolong - a Filipino take on Vietnamese pho type affair, costing a meagre £3 something for both myself and Rich. Other Filipino delicacies we didn't get to try but were recommended included crocodile meat and balut. We found out that balut was a developing duck embryo, boiled and eaten in the shell. Google it. Needless to say, we passed on this one.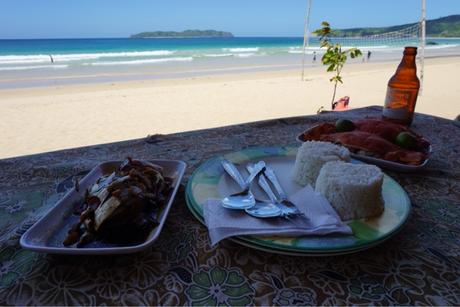 Whilst on the subject of food, I think it's fair to say the Philippines is not known for its cuisine. Chicken and pork adobo style is one of the country's popular dishes; a garlic, soy sauce and vinegar type marinade/sauce - this was really tasty also with fish. Otherwise, we were fairly underwhelmed. The best food we ate was freshly BBQ'd fish, served with rice. 
Whilst staying in Puerto Princesa we also took a day trip to Sabang, to see the underground river (a UNESCO world heritage site). It's about a two hour drive from PP - or you can stay in Sabang itself. The underground or subterranean river is pretty spectacular; you explore it on a small boat with a local guide, who points out various limestone formations, bats and other wildlife with his head torch. It's underground as it stretches approx eight kilometres through a cave, and in a 45 minute tour we were able to travel 1.5km inside. Brace yourself for the boat journey over there - it only takes about fifteen minutes, but if you're like me and a little uneasy on boats you may find it pretty choppy! A must see, nonetheless.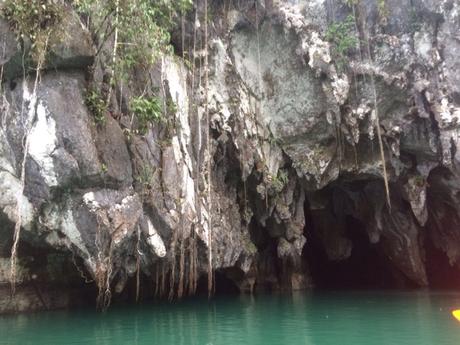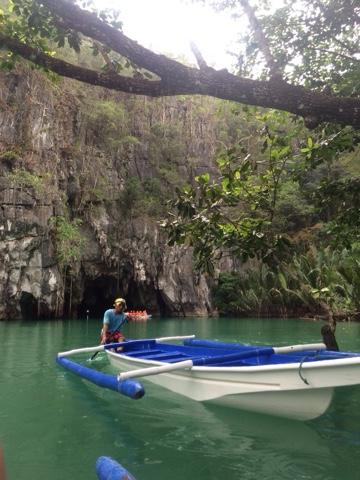 Next time - our adventures in San Vicente and el Nido! Trying to squeeze everything into one post is a challenge, and I don't want to gloss over the good stuff! So until then, paalam!