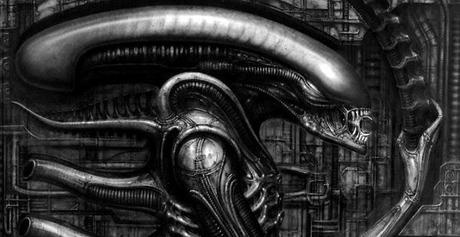 some have complained that the Alien film is about a 'sexual pervert' who roams around trying to rape the crew of the Nostromo.
But not all HR Giger's work is sexual.
Some of it's about SATANIC RITES, RITUALS AND PASSAGEWAYS.
Some of it's about TRANSMIGRATION OF LIVING FLESH FROM WINE TO BURNING KEROSENE.
Some of it's about the HUMANMINDSCAPE AS A GENESIS FOR GALACTIC APOCALYPSE or a Brand New Eden.
Ya know, anyone who has anything negative to say about the Alien's sexuality just doesn't understand how MUCH MORE SEXUAL the original Alien film should have been.
And fuck your Alien Queen - she's the ultimate superfluous over-exploited 'mother' of a red herring. The Alien was actually a sexually transgressive sharer of his/its unique metamorphic potential. Nobody ever seemed to get that, it was NEVER a horror monster, it should have always been THE BEST SEX YOU'D EVER HAVE.
You might not survive, but what a way to go. NO director has EXPLORED in GRAPHIC SALACIOUS DETAIL what a 'relationship' with a xeno might be like, how hard it would be to wake up from such a slaughterous-dream when your Adenine your Cytosine your Guanine and your genetic Thymine are being split wide open, gaping hydroxyl bonds, and rewired like steel pouring through the nerves of your teeth, blood and snot and puss mixing in your brain and you can't escape, every atom is a mega-cancer of grotesque lusty need.
Seriously, Giger's alien creation (from the depths of his nightmares rendered on waking) would literally make your GENES pregnant and the gestatory experience is (should have been) like no other in cinematic history.
Following Scott's artistic stab at the subject, what did Cameron give us? Shrieking bonehead termites (literally) who run towards gunfire when they have the ability to THINK and POSSESS and PHYSICALLY BLEND WITH THEIR ENVIRONMENT, as did the original alien. You would put your hand on a resting alien and not even know it was under your hand, as Ripley did in Alien.
Until it moved; until it wanted to share its INSANE WORLD OF PLEASURE with you.