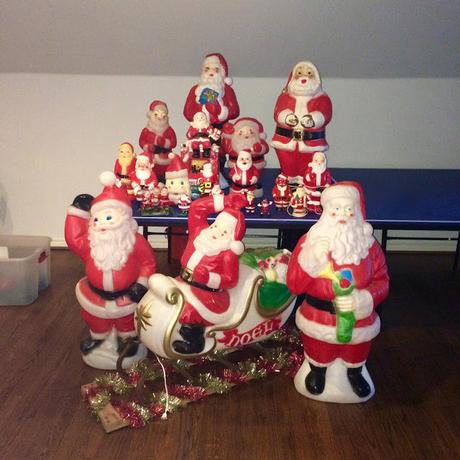 My collection of light-up plastic Santa's from the 1960/1970s
The Perot Museum of Nature and Science is conducting the ultimate hobbyist's challenge in advance of its first full-scale, self-curated exhibition, Eye of the Collector. The general public is invited to submit their collections – everything from quirky and crafty to historic and valuable items – for a chance to have their precious possessions on display within the exhibition. Starting today, contestants can upload information and photos of their collections in the categories of "Best Youth" (17 and under), "Most Unique" or "Most Visually Stunning" at perotmuseum.org/contest. The deadline to submit is Sunday, Feb. 21, at 11:59 p.m. CST. "Imagine your personal collections on view for thousands of Museum visitors to see! The big question is – how do you use inanimate objects to tell your compelling story? What is it about your collection and why you collect what you do that moves people?" asks Colleen Walker, Eugene McDermott Chief Executive Officer of the Perot Museum. "That's what we're setting out to learn as we gear up for the Perot Museum's first fully curated exhibition, Eye of the Collector."
After the contest closes Feb. 21, five finalists will be chosen in each of the three categories. A public voting period will then ensue to determine a winner for each category. The collection that receives the most votes overall across the three categories will become the People's Choice contest winner. In addition to having their collection displayed in Eye of the Collector, the People's Choice winner will receive admission to the VIP opening party, a one-year Family-level membership to the Perot Museum and four tickets to the exhibition. The three finalists' collections – one from each category – will be displayed within the Museum, and each winner will receive a one-year Family-level membership to the Perot Museum and four tickets to the exhibition. Eye of the Collector, will run April 16 - Sept. 5, 2016 and bring together the amazing personal collections of very different people – from the exquisite to the quirky, from historical artifacts to pop culture. At the heart of this exclusive exhibition are signature pieces from Nancy and Randy Best, whose extensive collections take visitors on journeys through time – from paleontological specimens, early hominids, pre-Columbian artifacts and weapons to exotic Sumerian tablets and spectacular minerals extracted from the earth. Every object becomes a portal that transports one to a distinct time in history. Among the other collectors are an avid Dallas Cowboys fan with one of the largest-ever assortments of team memorabilia; a world-record-setting collector of Star Wars mementos; a local leader with a passion for Ballet Folkl贸rico; a PEZ aficionado; an enthusiast of remarkable dolls; and our nation's third president, Thomas Jefferson.  For more details and to enter the contest, go to perotmuseum.org/contest.