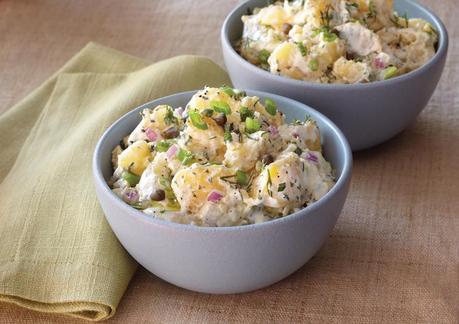 As many of you know, I attended the Safeway Open Nature picnic a couple weeks ago, where, among other things I met Tyler Florence! At the picnic, Tyler was demo-ing some of his Summer Picnic recipes – and I just had to share his recipe for Potato Salad with you because I thought it was so unique and perfect for a 4th of July BBQ. Below is the recipe, along with some notes from me on how to "healthify" it a bit if you'd like. Hope you enjoy and are having a great long weekend!
Open Nature Summertime Potato Salad
Recipe courtesy Tyler Florence
Yield: 4 to 6 servings
Ingredients
2 pounds small Yukon gold potatoes

(You can also try it with baby red potatoes and leave the skins on for added fiber)

2 large eggs

(Try using just the egg whites for the recipe)

Kosher salt for cooking and final seasoning
1/2 bunch sliced scallions, white and green parts (reserving some for garnish)
2 tablespoons drained capers (reserving several for garnish)
1 cup mayonnaise

(Use low fat or fat free mayo)

½ cup Open Nature Greek Yogurt

(Use 0% Greek Yogurt)

½ cup Open Nature Sour Cream

(Definitely go with fat free sour cream)

1/4 cup Dijon mustard
1/4 cup finely chopped dill pickles with 1/4 cup juice, about 2 pickles
1/2 small red onion, chopped
2 tablespoons chopped fresh flat-leaf parsley
1/2 bunch dill, chopped
1/2 lemon, juiced
Freshly ground black pepper
Extra-virgin olive oil, for drizzling

(Use no more than 2-4 tsp for the whole dish)
Directions
Put potatoes and eggs into a big saucepan of cold salted water. Bring to a simmer. After 12 minutes remove the eggs with a slotted spoon and let cool. Continue cooking the potatoes until a paring knife poked into themgoes in without resistance, about 3 minutes longer. Drain the potatoes in a colander and let cool.
Meanwhile, stir together the mayonnaise, sour cream, yogurt, mustard, pickles and juice, red onion, remaining scallions and capers, parsley, and lemon juice in a bowl large enough to hold the potatoes.
Peel the cool eggs and grate them into the bowl. Break up the potatoes into rough chunks, add to bowl, and toss to coat with the dressing. Season to taste with salt and pepper. Drizzle with a little olive oil and garnish with reserved scallions and capers.