Exhibition coordinator Georgina Goodlander and curator Chris Melissinos have been conducting interviews with video game designers, developers, writers, and composers for the upcoming exhibition, The Art of Video Games, which opens March 16, 2012 at the Smithsonian American Art Museum. In this series, Georgina reveals some of the things she learned during these interviews and this month, she takes a look at the unique team behind thatgamecompany and the inspiration for their game, Flower.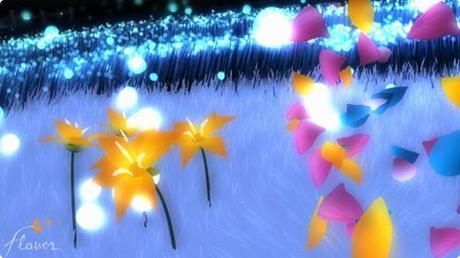 "At thatgamecompany, we have a design process that starts with an emotion, an idea of how we want the player to feel." Kellee Santiago, co-founder and president of thatgamecompany.
Kellee Santiago and Jenova Chen founded thatgamecompany in 2006 with a goal to push the boundaries of interactive entertainment. They create games that deliver meaningful, artistic, and emotionally rich experiences in a way that is accessible to a broad audience of both gamers and non-gamers. Video games today often involve the creative input of hundreds of people, from creative directors and level designers to animators and texture artists. thatgamecompany, however, employs only twelve people and focuses entirely on one game at a time. Their most recent published game, Flower, will be featured in the exhibition. In this game, the player controls a petal, traveling with the wind through vivid and changing landscapes. The controls are extremely simple and intuitive, allowing even novice players to become fully immersed in the sweeping and beautifully rendered environments.
In our interview with Jenova, he talked about the original inspiration for Flower:
When we made Flower, it was initially designed from experience. I grew up in Shanghai, which is a huge metropolitan city. We didn't have that much green. I had never seen a rolling grass hill. When I came to California and I was driving on I-5 from L.A. to San Francisco, I saw all these farms, endless green, the windmills. It really gave me a sense of nature and I wanted to capture it. It's like a person that has never seen the ocean going to the beach for the first time.

I wanted to capture that, so I took a photo, but the photo only captured a very small field of view. It's totally different from what I remembered. What I remembered was 360 degrees of nature, endless, so I took a panoramic video. It tells the scale, but it still doesn't tell this feeling of being surrounded by nature. Then, there's the wind. There's the smell. Everything there was necessary to recapture that strong experience I had.

That's when I realized I'm a game designer. With a game, I could do that. I could let the player fly through the grass as if their face was next to it. They can push away the grass, they can [almost] smell it by interacting at close distance, but also they could fly up and seen the scale of the whole field. Games have so much freedom that I can capture everything I want to capture. The other thing is the sense of endlessness, the sense of freedom. You can go anywhere you want.
Video clips of interviews with Jenova Chen, Kellee Santiago, and Robin Hunicke of thatgamecompany will be featured in the exhibition.