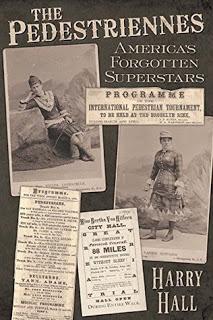 Published  26 June 2014.
I love reading about athletes.  They inspire me to persevere through my present life challenges.
As a gerontologist, I most often follow news stories about mature athletes.
However, when I heard about the pedestriennes, I decided to talk a walk down memory lane.
But not my memory.
In order to help memorialize this fascinating group of female athletes, I eagerly read Harry Hall's 2014 book, 
The Pedestriennes: America's Forgotten Superstars
.
I have accepted a review copy of Hall's book in exchange for a fair and honest review. 
Thanks to Hall's tireless research, I learned a great deal about the pedestriennes, who captured the nation's attention for about five years in the late 1870s.
In a quest for fortune and fame, they would walk for days on end with little sleep.
Sleep deprivation was a serious concern.  In addition, the tracks were not very well designed, neither was their footwear.  Blisters were a persistent problem, which were addressed by a variety of remedies ranging from leeches to raw beef wraps to tonics of various composition.
The walkers often had to endure the smoke of male spectators. Even worse, some people sought to sabotage them (and improve their betting odds) by throwing dangerous objects on the track--glass, tacks, burning coals.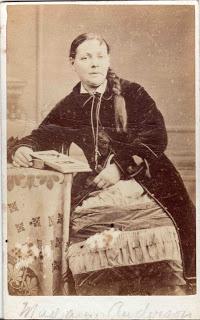 Madame Ada Anderson.
Sometimes the pedestriennes shared the track with others. Often they would compete against the clock in front of crowds that waxed and waned, depending on the hour of the day and the proximity of the finish line.
For example, one of the most notable pedestriennes, Madame Ada Anderson, walked 2,700 quarter miles in 2,700 quarter hours on the indoor track--seven laps for each quarter mile--set up in Brooklyn's Mozart Garden.
Anderson walked 675 miles or about the distance between Baltimore and Chicago. And she walked that in 28 days. That's a quarter mile for every 15 minutes over a month.
(See a description of the task on p. 3 in this link to chapter 1, 2, and 3 of Hall's book.)
The
New York Herald
reported Anderson's prize as $8,000 (Hall p. 130).
These women often draw huge crowds, despite living in an era when sexism discouraged women from such activities. The sports arenas were often filled with rowdy spectators.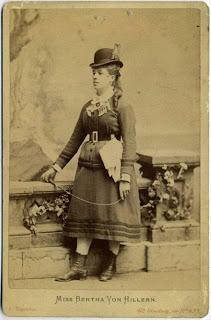 Bertha Von Hillern.
The female athletes were criticized for either being too masculine or too sexualized.
Competing against male endurance walkers was problematic. Were the women too weak by nature? Would a man be too humiliated to lose against a female athlete?
Despite the above-stated hardships, the pedestriennes also enjoyed some perks of fame.
They received mail and gifts from fans. They were interviewed about their athletic achievements and their personal lives for local papers. They were sometimes joined on the track for a quarter mile or more by admirers who kept them company.
And they often wore fanciful costumes. Their clothes drew a lot of attention from the spectators, so their resting time often included a change of costume.
And they received monetary prizes for their endeavors.  While one walker, Miss Carrie Wilson, complained that her prize in a 1879 California six-day race was less than her $200 investment in costumes for the race, other pedestriennes came away with a lot of cash (p. 179).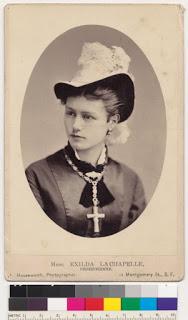 Exilda Chapelle.
In the same race as Wilson, LaChapelle took home a $1,000 prize.
In one of the earliest pedestrienne six-day walking events was held in Chicago's Second Regiment Armory in 1876.
On the 10-laps-to-a-mile track, American May Marshall defeated German immigrant Bertha Von Hillern in a controversial finish and took home $1,000 (p. 35).
In May of 1880, prizes for a six-day race in California were a $1,000 for first place, $750 for second, and $500 for third (p. 198).
But as the sport rapidly dwindled, so did the prize money.
In the last few chapters of Hall's book, the fate of the pedestriannes quickly takes a turn for the worst.  These women tried their best to use their athleticism, their wit and their determination to make a living and to gain some security.
However, society wasn't ready to support professional female athletes at the time, and most of the pedestriennes really struggles after their sport lost popularity.
These pioneers of women's athleticism may have had brief careers and difficult lives in the years after their sport lost favor with the public. However, their determination provides a rich heritage for female athletes of our century.
I am glad that Hall has spent the time and energy to bring their story to light.
Related:
Walking Rate Correlates to Longevity
Mature Athletes
Legacy of Pioneer Mothers