Who? What? Where? Who cares, you tedious fact averse conservatives - facts are not your friend, and you are not interested in honest inquiry.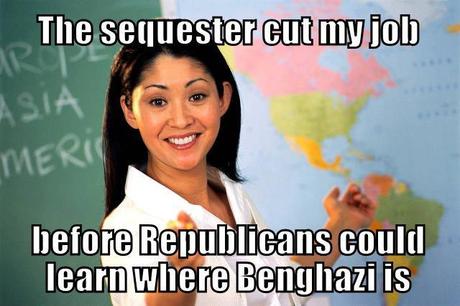 From
Occupy Democrats:
.... there are certain cynical opportunists willing to exploit even the saddest of national tragedies in order to score political points against President Obama and the Democratic Party.
To being with, who can forget Mitt Romney's ill-advised statements to the press the very next morning? Or, when he accused President Obama of taking "two weeks" to call the attacks and act of terror although he did it on the very next day, September 12?
However, Mitt Romney's disastrous opportunism pales in comparison with the sinister ploy of FOXNews and the entire Republican establishment to smear Pres. Obama, the entire Democratic Party, and particularly former Secretary of State Hillary Clinton, by pretending that there was some sort of full-scale cover-up from the lowest levels of the military all the way up to the national press and our Chief Executive, Pres. Obama.
A new poll by Public Policy Polling (PPP) fights that Republicans are not getting much traction with their focus on Benghazi over the last week, especially not with Hillary Clinton, the assumed front runner for the Democratic Party in 2016. Voters trust Hillary Clinton over Congressional Republicans on the issue of Benghazi by a 49/39 margin and Clinton's +8 net favorability at 52/44 is identical to what it was on our last national poll in late March. Meanwhile, Congressional Republicans remain very unpopular with a 36/57 favorability rating.
Apparently, voters are also bored by the right-wing echo chamber's relentless focus on Benghazi rather than other major issues affecting our country. By 56/38 margin, Americans believe that passing a comprehensive immigration reform bill is more important than continuing to focus on Benghazi. While America as a whole understands that America has much bigger problems than a manufactured political crisis being promulgated by far right sources such as FOXNews and Alex Jones's Infowars, the poll results leave no doubt that reactionary and easy to manipulate modern day Republicans are absolutely livid. Almost half of all Republicans, 41%, say that they consider the Benghazi attacks to be the biggest political scandal in American history! Republicans even go as far as believing by 70/19 margin that Benghazi is the worst political scandal than Nixon's Watergate, by a 70/12 Martin that it's worse then Teapot Dome, and by 70/20 margin that it's worse than Iran Contra!
Adding a slightly humorous insult to injury, a whopping 39% of the very same voters who believe that Benghazi is the biggest political scandal in American history actually have no idea where it is: 10% believe it is in Egypt, 9% in Iran, 6% in Cuba, 5% in Syria, 4% in Iraq, 1% in both North Korea and Liberia, and 4% didn't even venture a guess.
This manufactured crisis is a microcosm of current trends in the American political scene. The Republican base is absolutely enraged by a fake scandal, American voters overall believe Congress should be focused on other far more important issue, and the poll numbers and stature of their Democratic target are not declining one bit on account of it. The current Republican Party is an embarrassment to America and to its historical self.