Goliath (True meaning)-
The giant warrior of the Philistines whom David killed with a stone from a sling.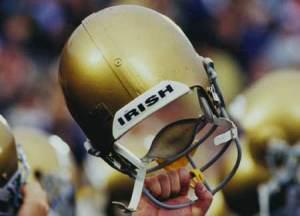 The current Fighting Irish are highly misinterpreted as a "goliath" in the College Football world.
Goliath (Meaning to College Football fans all over the World)- 
Notre Dame.
For the past 25 years, the words associated with Notre Dame's football team have been ones such as "Powerhouse," "Goliath," "Amazing,"  "Greatness, and " "Goliath".
This may have been true 25 years ago, but these associations are still alive and well. Instead, people should be associating the Notre Dame football program with words such as "Upsetting," "Underperformance," "Failure," and "Overrated".
The Notre Dame football program just simple isn't what it used to be.
And people must learn to accept that.
From 1964 to 1996, the Fighting Irish were 278-89, a .757 winning percentage. In this time period, they won 4 National Championships. Notre Dame also made 20 Bowl games from 1964-96, winning 12 of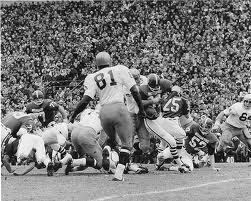 In 1966, when the Notre Dame football team was undefeated, and won the National Championship, one could consider them as a "goliath."
those.
This is the point in time when the Irish were the "goliath" in the College Football world.
Related: STOP THE MADNESS!
In the past 8 years, the record of the Notre Dame football team has been a mediocre 54-46, and in the past 4 years, it has been a lackluster 24-27.
In the first game of the 2011-12 College Football season, Notre Dame fell to a dismal Southern Florida team, by a score of 23-20.
This shows just how bland and lifeless the Notre Dame football program has become.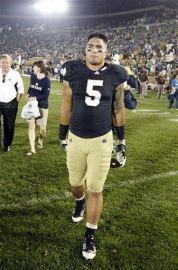 Notre Dame linebacker Manti Te'o walks off the field at Notre Dame stadium in disappointment as #16 Notre Dame fell to South Florida on Saturday. This is more proof on why Notre Dame shouldn't be ranked #16, and shouldn't even be considered a power in College Football.
Pretty much, ever since Brady Quinn took his talents to the NFL, the Fighting Irish have been nothing special at all what so ever.
A rich history of winning does not insure a program to be considered a "goliath" forever.
So then why does ESPN constantly overanalyze and overrate the Fighting Irish?
Why were they ranked #16 in the Preseason College Football rankings?
Why do fans all over the world continue to believe that Notre Dame is a goliath in College Football?
The answers to these questions remain a mystery to me.
By Sam Brief