So if you've liked us on Facebook you'd probably notice there's been a…increase in activity. You also might notice it being particularly biased for some odd reason. There's a reason for that — we have a Facebook manager! Karen has offered to update it with various things from the web, and I'm glad she did it, since I was hoping to lessen my usage of the Facebook page this year. You may see her post some things for a reason or two on OASG, but she'll mostly be updating the OASG FB.
So, with my short spiel over, let Karen introduce herself to you all. – Justin
Hi, I'm Karen, and I will be doing the Facebook updates for OASG. I have a background in publishing and a completely useless degree in creative writing. I used to write a blog that was completely not famous. I now do web content, social media and electronic communications for a small organization. I live in the suburbs with a husband, two kids, two cats, and an endless cycle of laundry. I have a theoretical understanding of housekeeping that I have given up on putting into practice, and the legacy I want to leave my kids is a firm grounding in sarcasm and skeptical inquiry.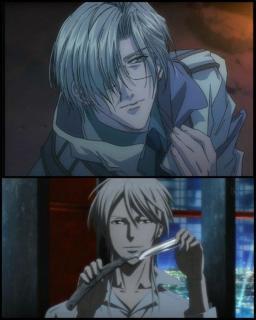 I love a good villain. Muraki from Descendants of Darkness and Makishima from Psycho-Pass.
I'm new to anime and manga. Someone happened to mention anime in a conversation and I realized I had never watched one in my life. For whatever reason (not because I have an obsessive personality or anything) I made it my mission to do so. I started binge-watching Hellsing, then Black Butler, then Psycho-Pass. Volumes of manga were arriving daily through the mail and fines were accruing at the library. By this time my family were poised to stage an intervention. Now I've settled into more moderate consumption (and I hide my manga purchases).
As you can probably tell from my list of starter anime, I tend to prefer darker storylines, although I do appreciate the sublimely ridiculous as well, such as Orenchi no Furo Jij? (I mean, c'mon, merman in a bathtub – it sells itself). I love Tokyo Ghoul, and someday I WILL finish Attack on Titan and HunterxHunter.
I'm following a few manga series, including Gangsta, Loveless (I absolutely adore Loveless. I could talk about it for hours. Try me.) and Ajin: Demihuman. Other manga that I like very much: Tokyo Babylon, Legal Drug, xxxholic, Pluto, Monster, Eternal Sabbath and Descendants of Darkness.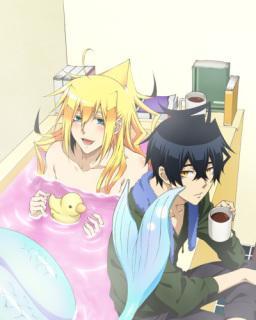 Drop by the Facebook page now and then and comment on what you see. Since the OASG blog posts show up automatically, I will be supplementing with mostly quirky things I find around the Internet related to anime, manga or Japanese culture. Any over-the-top, fangirling posts about hot anime guys are mine, not Justin's.