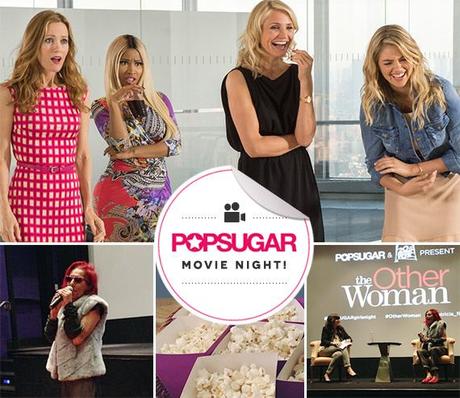 Popsugar invited some NYC bloggers to a screening of The Other Woman this week, and it was such a fun event to attend! In the movie, Carly (Cameron Diaz) discovers that her perfect boyfriend (Nikolaj Coster-Waldau AKA Jamie Lannister from Game of Thrones) is married to Kate (Leslie Mann), and when the two of them discover yet ANOTHER mistress, Amber (Kate Upton), all the ladies team up together to take him down. I'm not really one for super sappy chick flicks, so I was happy that The Other Woman didn't veer off in that direction. It was straight up hilarious and showed the special bonds we have with our girlfriends in a very sweet but real way. One of my favorite scenes was when Carly and Kate drink the night away and play dress up in Carly's incredible closet in a drunken laughing stupor – I couldn't help but smile and think about all the absolutely ridiculous moments I've had with my own girlfriends over the years. Watch the trailer below at the :45 mark to see a snippet!
And of course, the wardrobe choices in the film were nothing short of fabulous. I found myself oohing and ahhing over Kate the housewife's outfits the most. Her style had a very feminine and slightly retro look that I actually found really wearable. Does this mean I'm bound for the suburbs of Connecticut?! Carly, on the other hand, worked as a high powered attorney who wore lots of sleek and classic looking pieces, and Amber's outfits had a young beachy feel consisting of a lot of denim cut offs, casual tees, and tank tops. Oh yes, and bikinis…I mean you gotta work that in when it comes to Kate Upton, right?
When the movie ended and the giggles subsided, there was a Q&A session with the movie's legendary costume designer, Patricia Field. This lady is responsible for dressing the casts of Sex and the City, The Devil Wears Prada, and my personal favorite, Ugly Betty! She talked about her secret to creating believable characters on screen (finding common ground between actors and their personas), and focusing on creating an authentic look rather than picking pieces in the hopes that they'll become the next big fad. Interesting stuff!
The Other Woman opens on April 25, so round up your ladies for a fun night out!
Disclosure: This post was sponsored by Fox through their partnership with POPSUGAR. While I was compensated by POPSUGAR to write a post about The Other Woman, all opinions are my own.