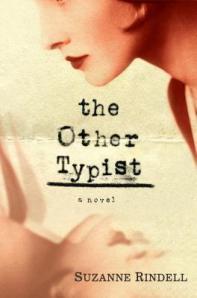 It's 1924, New York in the era of prohibition and Rose Baker is quietly proud of her job as a police stenographer. She is the fastest and most accurate typist at her police station, and she has an idol in the form of the Sergeant, with his moral rectitude and handlebar moustaches, and someone to despise in the form of the Lieutenant Detective, who is too greasily handsome and maverick for her tastes. For Rose Baker is an orphan who has been brought up by the nuns and one thing she knows how to do is judge. It's another reason why she thinks she's in the right job.
Rose's comfortable but dull life is shaken up considerably when a new typist joins the precinct. The glamorous Odalie is a beautiful and dangerous manipulator, a woman with a hidden agenda and a secret life. When she befriends Rose, nothing is the same as it was before. In the early part of the story, we are not quite sure who we should be frightened for – Odalie is clearly an operator, but Rose has her secrets, too, including a girlhood friendship that ended in scandal, and a cruel streak that appears without warning. One girl is the cat, and the other the mouse, but which is which? When it becomes apparent that Rose is writing this story from some point in the future beyond its conclusion, when imprisonment is at stake, the tension doesn't diminish; it becomes all the more intriguing to find out what happened and how.
There are all sorts of interesting influences in this book – it's a kind of Single White Female meets The Great Gatsby, with a bit of Hitchcock thrown in too. But it rises above these elements in the pitch-perfect evocation of the 1920s and the remarkably consistent voice of Rose who narrates. I found it took a few pages to get into Rose's voice – she is pedantic and eloquent, using long, complex sentences that nevertheless flow smoothly and well. But once I was in, I found this a clever, scintillating story, with a well-organised plot. This is a stunning debut for a first-time novelist, and the only place it shows is in the middle of the book, where Suzanne Rindell shifts her narrative around her characters, showing different aspects of their relationship in a way that can let the tension drop at the start of each chapter (though it's quickly picked up again). The theme of identity – that we are all constructions one way or another, and this is the strongest and the weakest part of our personalities – is brilliantly explored.
I'm never sure about the term 'literary thriller' because literature slows the pace in order to make the reader appreciate the subtleties and nuances of events, whereas a thriller implies (to me anyway) some high-octane speed. But The Other Typist is pretty close to what a literary thriller might look like, if you take away the necessity of inhabiting fifth gear. I both admired and enjoyed it, and will be looking out for Suzanne Rindell's next novel.