The blog entry for The Oriental Spice Gourmet, with nothing in it but photos, has been sitting in my drafts for four months. It wasn't because The Oriental Spice Gourmet isn't worth announcing to the world. It's the exact opposite, but I didn't (and still don't) have words to describe their food. Except delicious.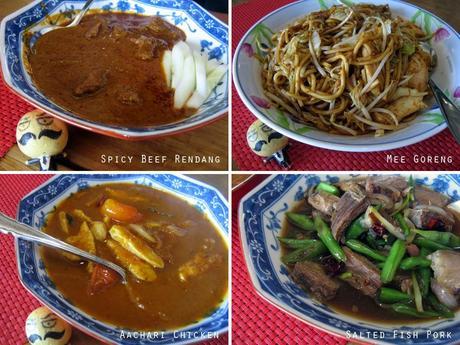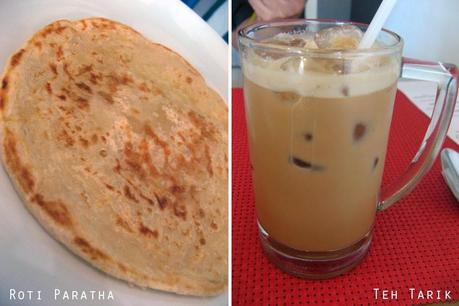 The people behind The Oriental Spice Gourmet are Cyril Sia and his wife, Mary Ann, and just two waitstaff. Cyril, a Malaysian who was head chef of Wagamama in London for ten years, does all the cooking. Mary Ann, his Filipino–Chinese wife, is the chief entertainer—she makes sure to talk to every guest in the restaurant. During downtime, a few hours a day, before the lunch and dinner rush hour, this friendly couple is open for a chat, even sharing a bit of their life story if you care to ask.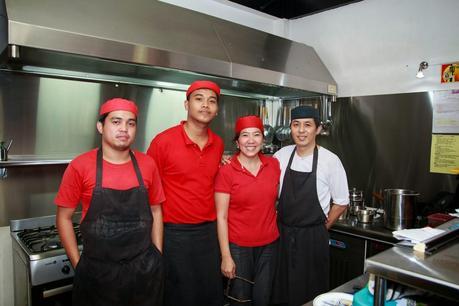 Cyril Sia (in white), Mary Ann, and the waitstaff of The Oriental Spice Gourmet Photo source
Their modest little restaurant is located on the second floor of a three-storey building, just after MEPZ II and Jollibee. Parking space is just good for four cars. If by the time you visit them, they are nowhere to be found, just inch your way forward if you're driving or take a three–minute walk farther down the street. Their new space—bigger and with more parking space—is currently under construction (they'll be transferring within the year).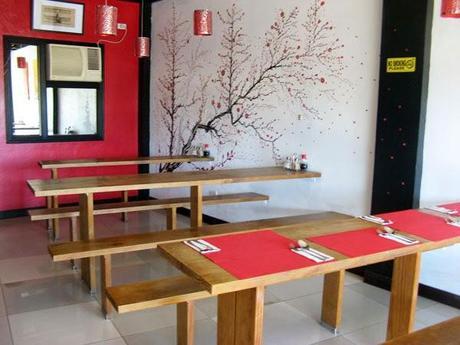 The Oriental Spice GourmetMaximo V Patalinghug Avenue Jr, Basak, Lapu-Lapu City, Mactan, Cebu(032) 238 4544 / (032) 406 0814 Mondays to Fridays 10AM to 8PMDeliveries accepted for a minimum order of Php 750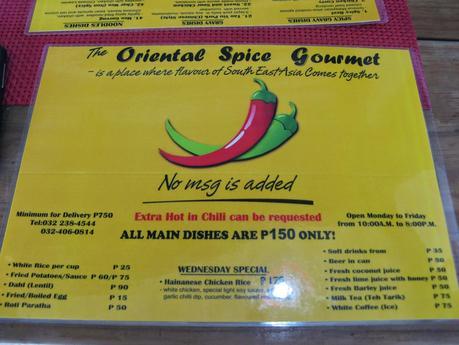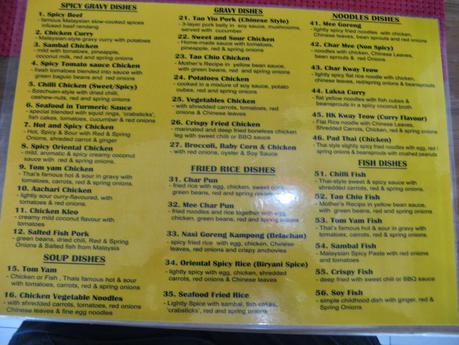 All main dishes are Php150 only!(Click to enlarge)
I have not tried everything on the menu, but I shall try 'em all one way or another. Relocate to Basak, Lapu-lapu City? (Haha!) Brave the heavy traffic across the old Mactan bridge after work? (I am not that brave.) Suffer for weeks until the next weekday holiday because The Oriental Spice Gourmet is currently open on weekdays only? (Yes, I shall suffer.)
Hey! Today isn't Saturday! It's a holiday (Happy Independence Day, Pilipinas) and a Thursday! Suffer no more! Okaythanksforreadingbye! :D