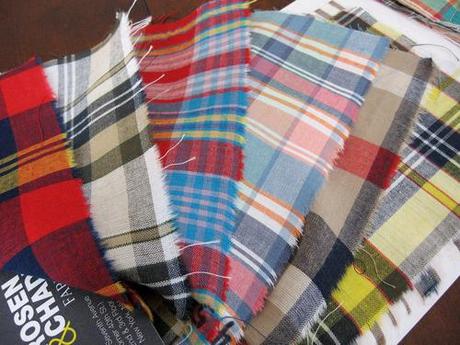 If done well, custom clothes can hold a great advantage over ready-to-wear garments, but the problem is always the cost. They're expensive and often take a lot of time to execute. The one exception to this are men's shirts. With Italian luxury labels and designer brands selling shirts for $200 or more, I don't understand why anyone would choose those over a high-quality tailor (less expensive shirts, certainly; but once you hit the $200 mark, it seems odd). With a tailor, you can get something that perfectly suits your personality and build, rather than rely on some designer's vision of an imaginary man. And the configurations tend to be so simple that one need not obsess over them. I have exactly two configurations with my tailor: a French front shirt with barrel cuffs, semi-spread collar, and no chest pocket for dressier fabrics; and a shirt with a placket, barrel cuffs, button down collar, and chest pocket for more casual ones. Oh, and sometimes something with this collar, but that's it. Choosing one design over the others comes naturally, and is always determined by which fabric is being used. 
Unfortunately, for truly casual shirtings, many tailors can be less well-stocked. If you're just interested something like a light blue end-on-end or an oxford cloth, you could flip through swatch books for hours. However, if you wanted something more casual, such as a brushed plaid flannel, rougher chambray, or an airy madras, the selections are more limited.
For those materials, I typically turn to Rosen & Chadick in New York City. Ellen, one of the proprietors there, always answers the phone with an atypical kind of graciousness and friendliness. You tell her what type of shirtings you're interested in, perhaps specify a range of colors, and she'll send you a range of swatches to choose from. If you like something, you order it and she'll send the materials to your tailor.
The only downside is that while her selection is great, the materials are still not as appealing as what you might find in various brand shops and haberdasheries. Pictured here are two lengths of madras, a chambray, and a striped linen I'm sending to Ascot Chang. The madras is nice, but not as attractive as the stuff I've seen from Gant, O'Connells, J. Press, or even Ralph Lauren. The chambray is also a far cry from the kind of beautiful texture and depth of color you'd find on a Mister Freedom shirt.
So, that's the one downside to custom shirts. They're great for weekdays, but slightly less optimal for weekends. But if I had to choose between my ideal fabric and my ideal fit? I'd obviously choose the latter.