I hate tennis.  I must be one of the few people in this country who will not watch one single minute of the Wimbledon championships.  On the day when Andy Murray took on Federer I went to cricket.  I hate the plastic fans who are Murray/Henman/Rudeski's biggest fans today, yet pay no interest in the sport for the other 50 weeks of the year.  Attendances at Davis Cup matches when held in the UK bear this out.
So I wasn't really interested in the whole Tennis competition in the Olympics.  In some respects I do not see why it should be included (similar reasons to Football), but then again the Olympics is designed to celebrate the best sportsmen and women in their respective events.  What I do not understand though is why Tennis and Badminton are in the Olympics, yet Squash doesn't.
I am married to a wonderful women.  We are compatible in so many ways, but in some aspects we are poles apart.  She is a Northern lass and so has some strange ways which over time I have managed to cleanse her of, and fortunately neither of my children have picked up words like booook, say phrases like "now then" instead of "hello" and avoid chips with gravy on.  She also loves watching tennis.  Every year she pleads with me to try to get Wimbledon tickets.  And every year I tell her that I tried but they were simply sold out to those "bloody corporate suits".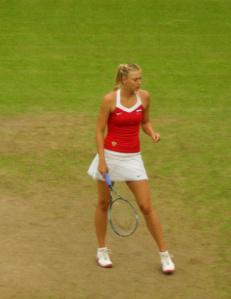 With our 14 year wedding anniversary approaching I was stuck for a suitably lavish display of my ongoing affection. That was before a knight in shining armor appeared.  "Would I know anyone who was interested in a £30 ticket for Wimbledon Centre Court?" popped the message up on my PC.  Bingo – that was the answer to all my prayers.  I could send the Current Mrs Fuller down to SW19, fulfilling her fantasies of drinking Pimms from the naked belly button of John McEnroe whilst I look like the best husband in the world.  Everyone's a winner.
She was delighted and showered me with affection as any good wife should.  She then told me who she would be seeing.  Venus Williams (lots of grunting), Andy Murray (lots of sweating), Djokovic (no idea) and Maria Sharapova…..Woooah…back up there.  Hang on a minute – now that wasn't playing fair.
I looked at the rules to see if we could swap tickets so that I could come in and see the last game but alas it wasn't possible.  So with a heavy heart she left me for a date with the Russian.
Tuesday 31st July 2012 – Tennis
My wife came home at 8pm with the washing and ironing done, the tea cooked and the kids in bed.  I was a superhuman in her eyes and had given her the "best day ever"…Hmm, not quite what I wanted to hear considering the fact our wedding day, day I proposed, the birth of our girls AND West Ham reaching the 2005 FA Cup final are included in the list of "great days".  But I took it in my stride and listened intently as she told me all the details.  Alas Pimms wasn't on the menu due to Sponsorship issues, but instead she had a pint (you can take the girl out of the north but you cannot take the north out of the girl).  She also confessed that she had seen John McEnroe on the BBC Media platform and he didn't look "up for it" if you see what I mean.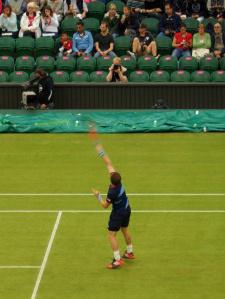 But overall she had a great day.  It was nothing new in terms of an Olympic venue but you cannot argue with value for money.  Thirty pounds to see four world class players is outstanding value.  However, it seemed, just like the previous day, the Olympic Family couldn't be arsed.  Rows of empty seats with the pink stickers ringed the edge of the court whilst some of the world's best tennis players played their hearts out.
So overall a big tick in the Olympics box for her, and a big tick in my "Football favours" book, to be redeemed at some point this season.
Tomorrow – Handball (referee!) and Water Polo.