Who was it again, from the pro-gun commenters, that predicted the
Occupy Wall Street
would fizzle?
Does this look like fizzle to you?
From 
Common Dreams.org
:
"On Thursday afternoon, Occupy Together "meetups" could be found in 575 cities that stretched across the world to places as diverse as Athens, Greece, and Wellington, New Zealand."
Increasingly, as this looks to have legs, we can expect it could impact the 2012 elections.....AND the interim politics as well.
I don't know that the tea partiers had these numbers, at their peak, but they certainly don't any longer, and never in so many places.  Now it looks as if the movement may be coming to Laci's neighborhood...
From
MSNBC.com World News
:
Occupy Wall Street-style protests spread to Britain
By William Kennedy for msnbc.com
LONDON — A young woman spray-paints the final letter on a floral-patterned sheet. Unfurled it reads: "Occupy London, 15 Oct,
occupylsx.org
."
The small group of assembled activists applaud its look. "I love the kitschiness of it. It's so 'Laura Ashley' English — perfect for a protest," one says, namechecking the British brand known for its prim-and-proper fashions.
Inspired by the
Occupy Wall Street protests
 on the other side of the Atlantic, demonstrators plan to establish a tent city in London's City financial district next weekend.
Visit msnbc.com for
breaking news
,
world news
, and
news about the economy
"The Wall Street protests sort of inspired everything," said Kai Wargalla, who co-created the Occupy London Facebook group. "It was just time to start here. We need people to step up and speak out."
This movement aims to unite the United Kingdom's far-flung activist communities in addressing "the inequality of the financial system," Wargalla said.
'Not just dirty hippies'
The dozen hipster-chic men and women making signs on Saturday in a funky, tropical-themed club in north London's Hackney borough have varied protest backgrounds. Some come from "Free Bradley Manning" and anti-nuclear campaigns,
others from the Spanish 15-M movement
, which occupied Madrid on May 15.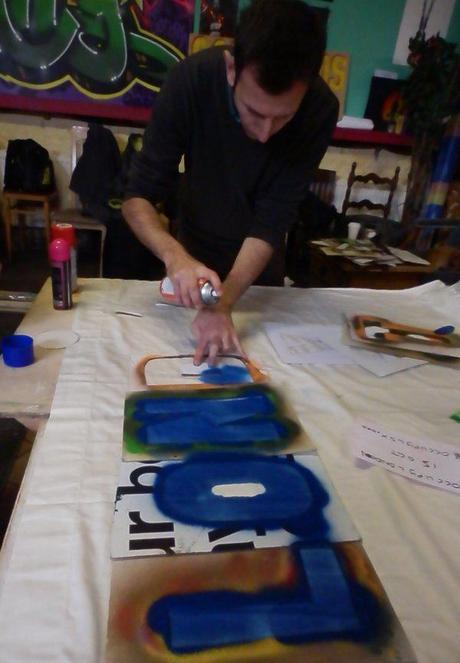 William KennedyAn activist prepares a banner ahead of the Occupy London protest planned for Oct. 15.
"These people are rightfully complaining about a lot of things," said Matthew Slatter, an activist programmer with a theology degree. "They're not just dirty hippies."
The mood was upbeat as aerosol fumes rose past African drums, palm tree cutouts and a faded pennant seeking to "Free Mohammed Hamid" — a street preacher who called himself "Osama bin London". He 
was convicted in 2008 of running terrorist training camps in the U.K.
"We're the beginning of something," said Ronan McNern, a member of U.K. rights group Queer Resistance who has a background in public relations. "People are not stakeholders in democracy, in the workings of the nation anymore. This [movement] gives a lot of hope for the future."
Occupy London's members largely identify with the "We are the 99 Percent" slogan made popular by protesters in the U.S.
"There's something about the fact that 15,000 people are trying to march down Wall Street that is uniquely exciting," said Naomi Colvin,  an activist who worked to get alleged Wikileaker Bradley Manning out of confinement "What's happening in Wall Street is in a way a culmination of things that have gone on in southern Europe and the Middle East."
"We're asking the government to be more accountable for regulating [the financial sector] in the interests of a few people, rather than the majority.
"Having a group of tents somewhere in London is quite symbolic," she added. "This is now a city that most of the people working in can't really afford to live in."
By Sunday morning, Occupy London had more than
1,500 followers on Twitter
and 3,000 had signed up to attend next weekend's event near the London Stock Exchange.
"I think it will only get stronger of time, just as we've seen in Wall Street," Wargalla said.
But that will not be easy, McNern warned. "To sustain something like this in the British winter will be a nightmare," he said.