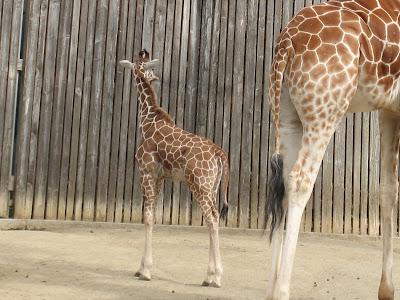 Maggie, two-month old reticulated giraffe at the Oakland Zoo
Trips to the zoo are a favorite outing with my grandchildren and an excuse for me to go to one of MY favorite places as well.  I always love to watch animals.  Most often, we go to the
Oakland Zoo
, nestled in the hills of Knowland Park, not far from central Oakland.  It is a medium-sized zoo, with animals displayed in large, naturalistic enclosures and, at the lower end, a children's zoo with plenty of animal themed climbing structures (such as a giant rope spider web) and hands-on displays (such as the large hollow rabbit head that you can stick your head into and find out how a rabbit's large ears help it to hear even very tiny sounds.)  The zoo has upper and lower parking lots and entrances.  We always go in at the lower entrance and work our way up the hill.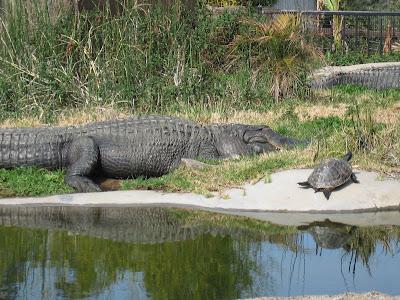 American Alligators and turtle
Our most recent visit was in early March, on a bright, sunny day.  The animals were active, seeming to enjoy the nice weather.  In the children's zoo we stopped to watch the otters, always entertaining, as they slid in and out of their pool and performed underwater acrobatics in front of the glass of their tank, just inches from where we stood.  We then checked in on the alligators, basking in the sun, and the lemurs, who only come out where you can see them on warm days.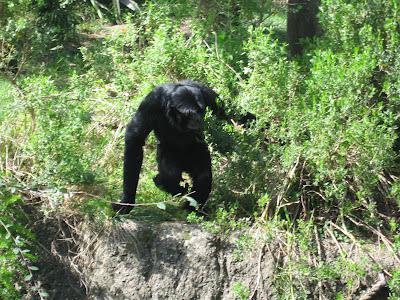 Siamang
We then began our walk up the hill, stopping on the way to watch the squirrel monkeys, who were scampering about the branches inside their enclosure.  It was a good day to be a primate.  The chimpanzees next door were all outside, one of them drumming enthusiastically on a tub (perhaps auditioning for a future chimp rock band) and the siamangs were busy foraging on their island.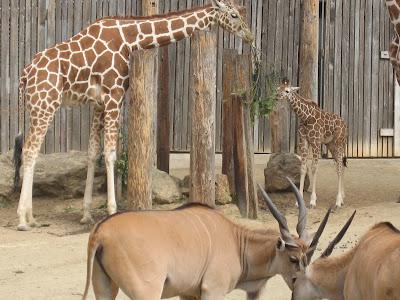 Giraffes and Elands
At the top of the hill we passed the sun bears, flamingoes, and tigers on our way to the African Veldt, where we got our treat for the day–
a new baby giraffe
!  The young giraffe, born January 12, 2012, was just two months old.  Weighing in at birth at eighty pounds and seventy-two inches, the healthy baby, named Maggie, was born to Twiga (Mom) and Mabusu (Dad) after a 15 month pregnancy. Maggie is the first female giraffe born at the zoo in nearly a decade.  When we first saw her, she was resting on some straw, but then she unbent her spindly legs and stood up (a feat in itself) and followed mom to the food bin.  Although Maggie is still drinking milk, she will begin to nibble leaves when she is about four months old.  Did you know that giraffes have blue tongues?  We saw them in action. Giraffes use their flexible tongues to grab leaves and pull them into their mouths. I learned about giraffes when I wrote my book
Giraffe
(Morrow, 1987), illustrated with photos by Richard Hewett. That book was researched at a wild animal park in New Jersey.  When I was in Africa in 1971, I saw wild giraffes in Kenya in Nairobi National Park.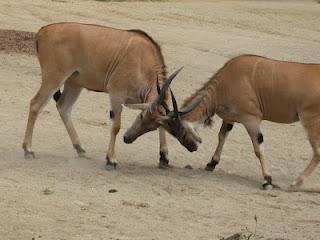 Elands
Other animals in the African veldt enclosure at the Oakland Zoo include Egyptian geese, gazelles, and elands, a large antelope.  While we watched, two eland sparred in a shoving match, butting one another with their heads and horns.
We hadn't seen everything at the zoo, but it was time for lunch.  So we made our way back down the hill, stopping for one last crossing of the (cement) lily pads in the children's zoo and to look at the pot bellied pig before heading home.  We knew we'd be back another day
Rides:
You can take a short
train ride
around upper part of the zoo.  A
Sky Ride
takes you across the zoo in a chair-lift for a birds-eye look at the animals.  However, it has not been operating almost every time we have been at the zoo.  At the upper entrance, there is a small
amusement park
with a carousel and other rides suitable for young children.  We usually bypass this attraction in favor of spending more time watching the animals.
Getting there
: Take the Golf Links Road exit off Highway 580 and turn East following the sign to the zoo.  The zoo entrance is one block from the freeway.
Zoo hours:
10:00 am – 4:00 pm, daily except Thanksgiving and Christmas.