Josh Sugarmann for The Huffington Post
According to National Rifle Association President David Keene, fully automatic weapons
should be illegal
.
As far as I know, this is actually news.
Keene, the father of a
convicted road rage shooter
, actually
supports
banning a category of firearm. Granted, for most people, outlawing machine guns would be a no-brainer, but let's remember the organization we're talking about here.
And, specifically, this guy: Wayne LaPierre.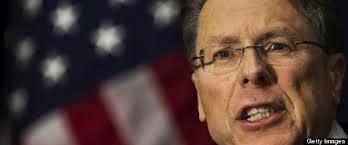 In 1986, a ban on the manufacture of
new
fully automatic machine guns for civilian sale was added as a last-minute amendment to the NRA's federal flagship bill of the 1980s the "Firearms Owners' Protection Act," commonly known as "McClure-Volkmer" for its Senate (Jim McClure, R-ID) and House (Howard Volkmer, D-MO) sponsors. (A pool of
pre-1986
machine guns registered and controlled under the National Firearms Act of 1934 remains available to private citizens under federal law.)