I had reason the other week to visit the Church of St Mary and St Barlok, near Ashbourne in Derbyshire.  I do not visit churches very often but I do find them intereting.  The church is very old, it has its origins in Saxon times and has been little altered since the sixteenth century.  It is a fascinating church and well worth a visit.  If you are a George Eliot fan there is a strong connection as her father and paternal grandparents are buried there.  Try as I might, I cannot find out anything about St Barlok.  St Mary is the mother of Jesus (just in case you wondered.  I knew his mother was Mary, I suppose I should have realised she would be a saint).
 Adjoining the church is the Old Manor, which is owned by the National Trust and is apparently available to rent as a holiday home.  Because I am a dull sort of person, before setting out on the journey I had carried out a bit of research into the area and found that the Manor has a rather nice knot garden.  So, as is my usual habit, I dragged an unwitting party of people around the garden before we could go for lunch.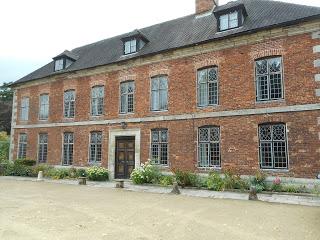 The Manor is not as large as many you might see but is beautifully proportioned.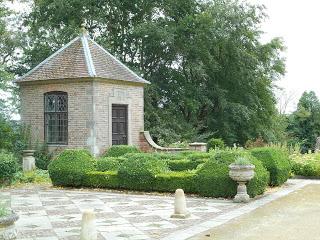 At the front was this lovely little summer house with some topiary in front.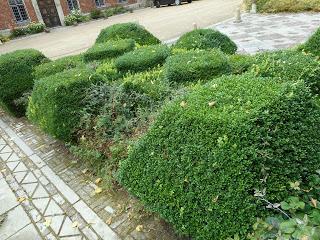 Ignore the weeds, this is a great piece of topiary and very easy to achieve in a small space. I liked it.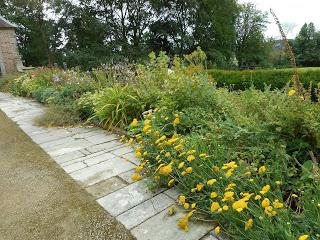 There was a nice bit of planting to the side as well.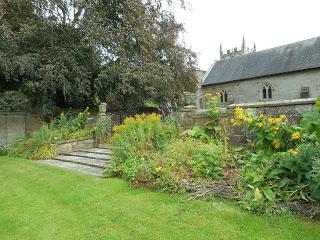 Around to the back of the house and there are more herbaceous borders that had that 'late summer I've flopped a bit' look, which was still a good look.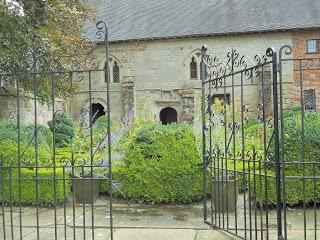 The gates led the way to the Knot Garden.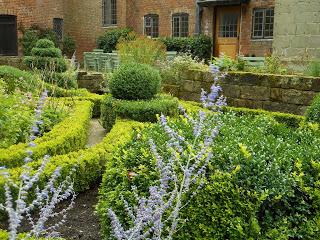 Gosh, just gosh.  It was not huge but it was really worth seeing.  If you want inspiration for a Knot Garden this was a great example.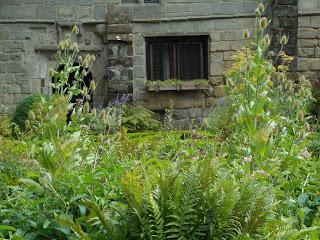 It was great to see teasels used in this very formal setting.  I have a huge fondness for teasels as they remind me of my grandmother who allowed them to romp around her garden.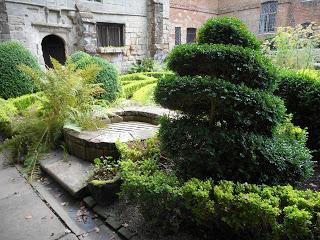 There was some nice topiary and what I assumed was a covered well.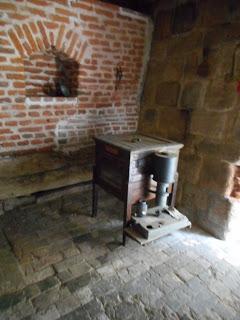 To the rear of the Knot Garden is a medieval hall.  Inside was an old smoking machine and a large oven that went across the wall.  I wondered if it was used to bake bread for more than just the manor as it was so large.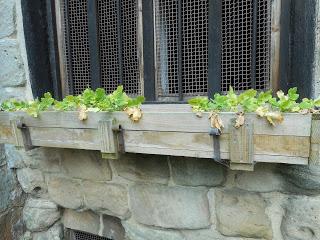 These small window boxes are on the hall window ledge.  The contents looks a bit salady/herby.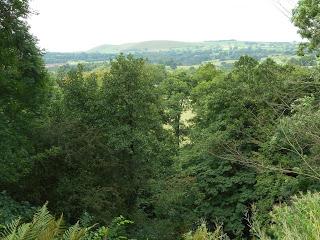 We wandered on further down the path that leads you on, until we found this incredible view which I think is across the Dove Valley.  It is a valley, there is a river at the bottom, it might be the river Dove.  (I know there is a river Dove, I am just not 100% certain if this river is the River Dove).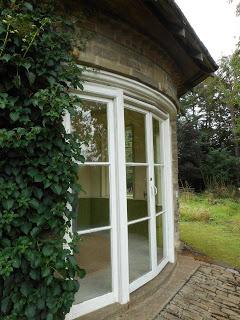 Looking out over this view was this beautiful little summer house which was dated 1973.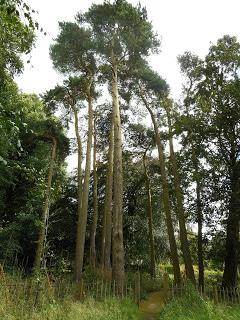 As we walked back to our cars we passed through this grove of pines.  This is clearly a garden that was laid out by someone who loved it and loved plants.  It was one of those 'I wish I had visited in its hey-day' moments. Bearing in mind the nice summer house was 1973, its hey-days were not that long ago.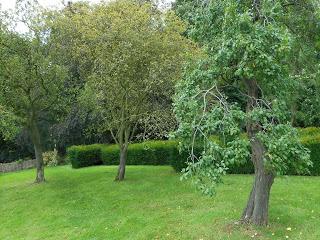 and just as I was saying, "there really should be an orchard somewhere", we found it.  Well, possibly the remains of it.
It was an unexpected element to the day and an extremely pleasant one.  The Knot Garden is a real joy and if you are out that way it is worth checking the opening times and stopping off.