The Hua Lamphong railway station is the main train station in Bangkok. It is clean and efficient and attended by an overly keen man at the front desk who seems particularly concerned with the falangs (tourists) with their heavy backpacks and worried expressions. I was catching the night train to Vientiane in Laos, but it was due to leave later than expected so I had time to relax at the café. A popular expression in Thailand is Mai Pen Rai (never mind) and one that should definitely be adopted when travelling in Bangkok.
I bought some sort of pastry and a tea and sat down to write-up my notes, becoming easily distracted watching the activity of the people milling about in the train station below me from the café balcony. A huge television was set up below which reached the tall ceiling. People were sat in rows of plastic chairs in front of the T.V. Buddhist monks clad in bright orange robes, a familiar sight in Asia, dominated the prime position in front of the T.V.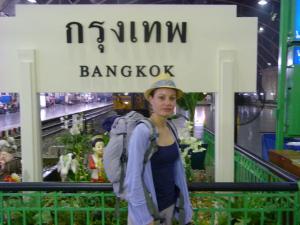 Bangkok train station
For the people who ordered dinners the hostess on the night train attached tables between the seats facing each other. Later a man took away the tables and assembled the seats into beds. My bed was pulled out from above the seats. Two thin straps offered the only protection against falling out of the top bunk while asleep. This was a likely scenario as the train crashed from side to side at high-speed. It was like trying to get to sleep on a rollercoaster! A green curtain offered some privacy but did nothing to shut out the strip light along the roof of the carriage. It took me a long time before I finally drifted off to sleep. I spent most of the night with my head stuck out of the toilet window of the carriage, enjoying the warmth and sites as the train hurtled through Thailand.
A group of workers on the track waved to me when the train made one of its many unexpected stops. They seemed surprised to see a falang with her head stuck out the window of a train. In the morning the hostess brought breakfast of tea, toast and juice on a little tray, with a warm smile. The man disassembled the bunk beds back into seats with the same military precision he had shown the night before. We were still in Thailand and about four hours late, Mai Pen Rai.