Anthony's Restaurant Rating:
72/100 X
Welcoming:9/10 Menu Choices: 7/10 Food Presentation: 8/10
Food Temperature: 8/10 Food Taste: 12/20 Service: 2/10
Ambiance/Music: 9/10 Architecture/Interior: 9/10 Air Quality: 8/10
Total: 72/100
When I found out that today's dinner was at Table Fine, I was over the moon. I love this place, its large spacious, its relaxing setup and good food got me all excited. I consider La Table Fine to be one of the top 10 French restaurants Lebanon has seen in the past couple of years. I have been there a few times already and every time its a new discovery and a new adventure.
I always appreciate the improvements at La Table Fine. They often give close attention to details, but something was not right tonight.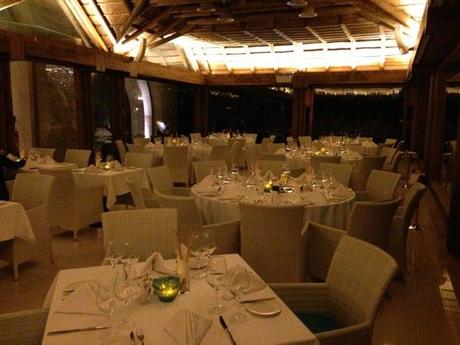 A beautiful blond hostess, carrying a list of tonight's reservations, welcomes us at the entrance and walks us through this beautiful restaurant, right to our table. On the way, waiters here and there stopped to welcome us with a smile: "Bonsoir!" A habit a few or none have in this country. I loved this gesture. Pleasant and relaxing music plays in the background, warm ambiance, high ceiling structure, an extraordinary multimillion decoration … are a few of the details that make La Table Fine special.
The improvements, I instantly felt tonight:
A new French speaking sommelier, wearing a neat uniform,helps us choose the right wine followed by the wine ritual depending on the chosen bottle
A super perfect welcoming
New suggestions of Ceviche on the menu's first page: Ceviche is a seafood dish popular in the coastal regions of the Americas, especially Central and South America. The dish is typically made from fresh raw fish marinated in citrus juices, such as lemon or lime, and spiced with chili peppers. Additional seasonings, such as chopped onions, salt, and coriander, may also be added. Ceviche is usually accompanied by side dishes that complement its flavors, such as sweet potato, lettuce, corn, avocado or plantain. As the dish is not cooked with heat, it must be prepared fresh to minimize the risk of food poisoning.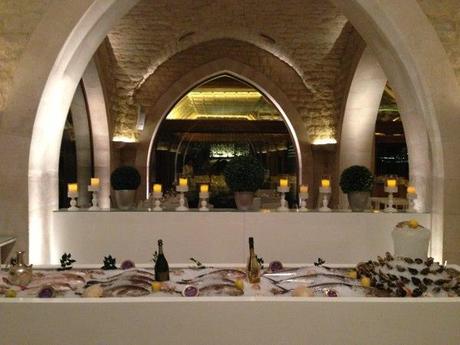 The details I love about this place:
Nice thin crystal wine and water glasses
A side bread plate with a small butter knife
A beautifully decorated table with two candles, transparent salt and pepper mills and a long glass filled with Crostini Italian bread sticks
Professional sound system broadcasting fine relaxing music
Small towels offered after dinner, which expands when hot water is poured on it
Like I mentioned earlier, although La Table Fine is one of my favorite places, something was not right tonight.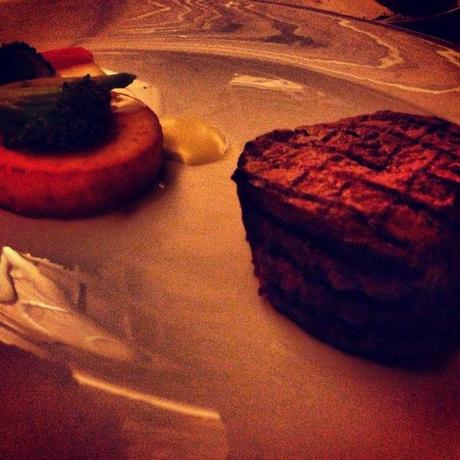 Let me point out a few things that I could think off:
Firstly the place was fully booked. The service was unacceptable. The staff did not seem ready to handle the load.  Waiters were overwhelmed, they were slow and lacked attention to important details. They were running around like headless chickens, as the expression well describes. We asked for the bottle of wine two times before it came. Another bottle took 30 minutes to be delivered. The order was taken all wrong. Our waiter was sloppy and was just throwing plates one over the other as if we were in a cheap Lebanese restaurant.

The sommelier carelessly didn't pass by our table as often as he should have,  leaving the waiter to pour the wine when he remembered to or when we asked him to.
The head waiter of our section disappeared. The same waiter, who seemed untrained, was left to take our dessert order 30 minutes after we finished our main course.
The service was very slow and plates came late from the kitchen.
In such a high end place, the low quality dirty sneakers the waiters are wearing are not up to standard. They should all wear the same brand.  Every waiter wore their own flashy and dirty sneakers, it was annoying to see during dinner.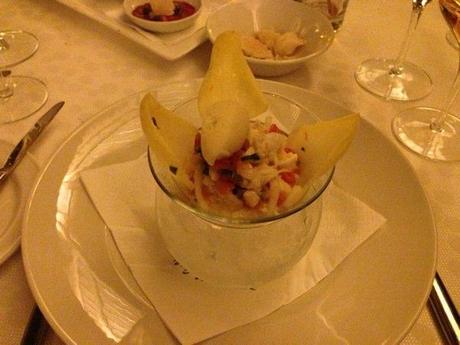 Now let's discuss the food part: Some ups and some downs.
Tonight's special suggestions:
Crab Salad with Endives and Green Apples in a lemon sauce
Oysters with Champagne
Dinner started with a small amuse gueul, as suggested by the chef: Carpaccio de Boeuf (Creme de Parmesan, Capres, Sauce Pistou). I mentioned several times to the waiter that I'm allergic to garlic… And this little bite was filled with hidden garlic that I had to swallow without noticing. A huge mistake.
We ordered:
Filet de boeuf Angus, ordered by my wife who didn't like it at all since it was over cooked. She only ate one bite from it. Finishing dinner, the waiter who was in a hurry took the plate without asking her about the problem. She didn't have the dinner she had hoped for.
Filet de Veau that I ordered was disappointing. Over cooked as well, thick, chewy with side vegetables that are all undercooked. I really didn't enjoy my meal.
Tagliatelle aux crevettes that my mother appreciated a lot. She stated that it was a success.
Dorade fish with potato purée and mashed potatoes was simply perfect.
The crab salad suggested by the chef today was simply extraordinary. Presented in a bowl filled with ice and a conical glass on top. Fresh crab, endives, apple sorbet with tomato cut in small cubes in a lemon dressing. I loved it. Fresh, generous, amazingly presented and tasting great.
Calamars grilles en Symphonie de Tomate au Citron: Grilled Calamari salad with cold tomato couli, avocado and local green lettuce: A success.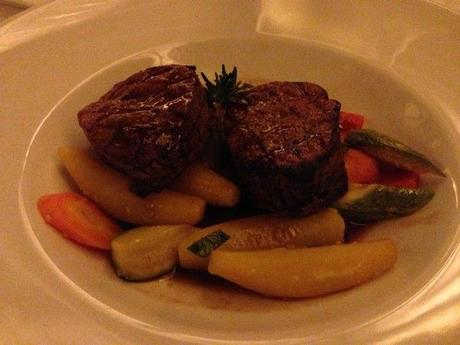 The bread is delicious: tasted the French baguette and olive bread. Soft and tender, served warm. A fine preparation few master in Lebanon.
Desserts:
I ordered the Pain Perdu as suggested by the waiter. It was not a good choice. Their Pain Perdu has too many crispy particles inside. The bread is over cooked and not soaked enough in milk. Not my favorite for sure. While the Coque de Chocolat and Sorbet were good.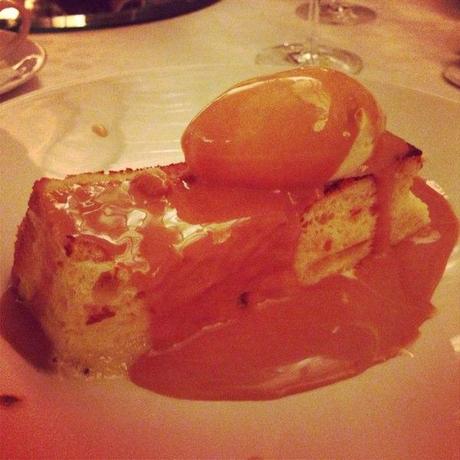 The improvements needed:
A new menu with new suggestions is needed. This one has been here for some time now. I've already tried it all. It's time to change.
The cheap water plastic bottles should be wrapped in a cloth or changed into a glass one
It is unacceptable in such a fine place to keep the same cutlery between a course and another by dropping it on the clean white table cloth.
I suggest a separate dessert menu not the same menu given to the customer twice
They should get special meat knives. The ones they are using now are not good at all
The chocolate dessert ball which melts when hot sauce is poured on it, is a ritual in itself. I would have expected they give it the appropriate attention.
All waiters should wear the same shoes. What I saw was unappealing. Every waiter wore sneakers of their choice and color. Its not acceptable in such a fine place. They were dirty and flashy and I could not help notice them all night. It was annoying
Something happened tonight, something I didn't want to experience, something that changed my mind about La Table Fin being one of my favorites.
They deserve a second chance. I will try it again after a couple of months… Hoping they decide to change the menu.
I'll keep you posted.
























Pages  [
1
]  [ 2 ]  [ 3 ]  [ 4 ]  [ 5 ]