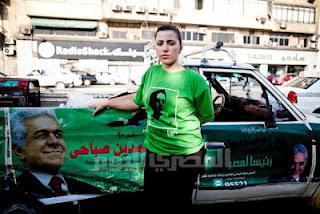 Egyptian voters are anxiously awaiting the election of their first civilian president. Many voters are likely to vote strategically for Amr Moussa, former head of the Arab League and a high ranking official in the Mubarak Government, to avoid the victory of an Islamist candidate, writes the
Egyptian Independent
. Some of the strongest figures in the race include  former Muslim Brotherhood leader Abdel Moneim Abouel Fotouh (
Interview with Presidential Candidate Abdel Fotouh
) and Hamdeen Sabbahi, a Nasserist. One potential leftist candidate in the race is Khaled Ali, a pro-revolutionary human rights lawyer. Ali bills himself as coming from the "heart of Tahrir Square."
Heba Afify writes that many onlookers regret the withdrawal of Mohamed ElBaradei from the race. El Baradei withdrew in protest of the military's handling of the transition, leaving revolutionaries with no unifying figure. My former colleague at AUC, Rabab El Mahdy notes that the presidential election is the start of the transitional period, not the end.
Abdel-Rahman Hussein reports that the new President's powers and duties have not been clearly outlined. It is not clear whether the new President will be able to dissolve Parliament or appoint a cabinet. In the absence of clearly stated powers, I argue, the civilian President risks becoming a puppet of the military junta known as the Supreme Council of Armed Forces. That being said, before the most recent constitutional amendments which took place in
Egypt
last spring, the President had sweeping powers.
Jadaliyya has a really nice overview of who is running in this race.
Egypt's Presidential Election: Meet the Contenders. 
In case you are confused, here is the short version. 
Fotouh is a medical doctor. He is a long time Islamist. He was a main founder of the Muslim Brotherhood. He has since left the organization. I have heard him speak, and think he is a reasonable person, with respect for the secular, but is still a conservative Islamist.
Khaled Ali is only 40, Egypt's youngest Presidential Candidate. He has been heavily involved in street protests as a leader and a participant throughout the revolution. He is known as the "candidate of the poor." He is the Executive Director of the Egyptian Center for Economic and Social Rights.  He is a dark horse, but two thumbs up!
Selim Al-Awa is supposedly a moderate Islamist, but charged Christians with storing weapons in their churches. (?!!!?) He is a 69 year old lawyer, with ties to the Muslim Brotherhood that have not been clearly verified. He is looking for support from radical Islamist groups. Not my cup of tea.
Hesham al Bastawisi is another lawyer with a blemish free record of fighting for an independent judiciary against the Mubarak regime. He is running on the ticket of the leftist Tagammu party. I like him, but he probably does not have a chance. 
Abu Ezz-Al Hariry is running on the Socialist Popular Alliance ticket. He is a reform candidate, who is an experienced politician and a man of the people.
Mohamed Morsy is the Muslim Brotherhood's last minute presidential nominee. He has a good shot, because he is MB. Nuff said. 
Amr Moussa is of the old regime, but the front runner in this race. He is a 76 year old veteran politician who served as the permanent representative of Egypt to the United Nations. He was Minister of Foreign Affairs under Mubarak, and also Secretary General of the Arab League. He is secular, but a Mubarak crony. He has a very good chance. 
Hamdeen Sabahi is a Nasserite, which invokes secularism and a moderate leftism, combined with pan-Arab nationalism. Nasser is a favorite memory of Egyptians right now, so this may work for Sabahi. He has a strong political history, and a platform of social justice. 
Ahmed Shafiq served as Prime Minister in the days after the Mubarak Regime collapsed. He is a military man who has distanced himself from the Revolution. He is probably the SCAF's preferred candidate.
Well the excitement never stops!