On partying before the main event
Its getting a little dark outside, and before too long little gangs of children will start donning their scary costumes and 'visiting' their neighbours. By tomorrow burnt out pumpkins will linger on front porches, and the odd cotton wool spider's web will linger on a garden hedge with an occasional pipe-cleaner spider to occupy it.  There is nothing quite like Halloween to divide Christians, as @crimperman depicts in his wonderful cartoon: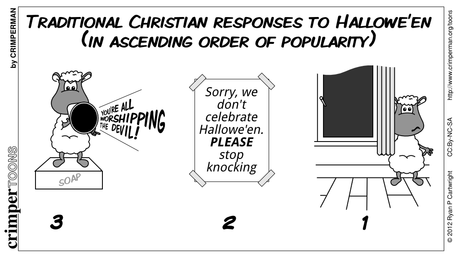 Image: crimperman.org
The thing is, Halloween was traditionally the warm-up to a far bigger act. On November 1st it was All Saints' Day, and on the first Sunday thereafter All Hallows' Day. All Saints' Day recognised those who had gone before whose life had reflected especially brightly the radiance of Christ. All Hallows was a reminder of every Christian, great and small, who had now entered the presence of God. To say that these festivals were created to invest the pagan Festival of the Dead with new meaning is hardly surprising. Christianity is far more concerned with delight in the radiance to come than a ghoulish fascination with the decay which precedes it. Somehow the Christian church has allowed all this to be eclipsed by a festival of fright with which we feel uncomfortable.
On this All Saints' Eve, I heartily commend Malcolm Guite's lovely sonnet to you. An excerpt follows below:
Though Satan breaks our dark glass into shards
Each shard still shines with Christ's reflected light,
It glances from the eyes, kindles the words
Of all his unknown saints. The dark is bright
With quiet lives and steady lights undimmed,
Click here for the whole thing.