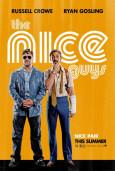 Two private eyes with very different styles end up working together to find out the truth about deaths all linked together over a newly made porn film in the 1970s.
The film is set in Los Angeles in 1977 and I really wasn't expecting it be so good. I totally underestimated it from the trailers and found myself massively enjoying the film. With many different types of comedy mixed in with the crime and action scenes. Russell Crowe and Ryan Gosling were fantastic together.
Considering the pair must enter the seedy world of pornography that certainly does make for some very funny moments and scenes. Which happens a lot more than I first expected, along with showing that neither of them are the best detectives as they try very hard to crack the case. I certainly did not expect the film to unfold in the way it did, obviously cannot spoil it but this one certainly does a lot of things different. That is in a very good way though as it makes the film rather unique in that sense.
It took me about two weeks to eventually see this film that shows the trailers did not encourage me to see it. So please don't let that put you off if you are having any doubts about seeing this one. I was very pleasantly surprised and thought it was just fantastic fun.
Gosling and Crowe really do have such a great match up and bounce off each other so very well, and very unexpected might I add. There's something about both of them and to have all of that charm and charisma on stage at the same time is pretty impressive.
Within the story the relationship between Holland and his daughter Holly creates plenty more moments as she attempts to help her father and Jackson crack the case and locate the supposed destroyed film. When they realize that another copy exists, as the people involved keep dwindling down. Who is really behind it all?
They certainly end up totally involved in the situation and that in turn puts their lives at risk as they get closer and closer to knowing the truth and working it all out. They also must be careful as that then sends more trouble towards them.
As this finished in all honesty I would take another outing from the pair, that is how much I enjoyed this film. Got to love it when that happens when you aren't really expecting to like something! Certainly a favorite of 2016 so far!