Right now I'm sitting on a plane, head spinning, brushing back tears over the events of the past four weeks. I still can't believe that God is doing this.
Shortly after fully surrendering to God's call to pastor, He began to direct our paths in amazingly providential ways. He quickly and quietly directed us to investigate a church ministry in New England. He had previously been impressing on my heart that we might be heading to New England somewhere.
Since then, God has rapidly moved—opening doors, pulling us forward, and requiring us to continually act in faith, trusting Him. It's been a journey in which His hand has been beyond obvious. He has confirmed, reconfirmed, and orchestrated events as only He could. It's been so obviously God, that it's almost not faith!
For the past eight days, God has allowed our family to officially candidate for the Sr. Pastorate of Emmanuel Baptist Church of Newington, Connecticut. Having never been familiar with this church, I did not know what we would find when we arrived last weekend. What we found was a sweet-spirited church family that has been through some difficult years. They are eager and ready to move forward with fresh vision and biblical leadership. We found a small body of united believers who desire to love Jesus, love each other, and love the lost—nearly 1 million people within ten minutes!
We found that God finally placed a location and faces of people to bring sight to our faith. He filled in the gaps—and it all matched up perfectly to the ways He had been burdening and preparing us—in more ways than I have time to describe. (Maybe later…) The week was a whirlwind of preaching, meeting with staff, meeting with church family, meeting with deacons, meeting with school students and families. We were overwhelmed with the spirit, the need, as well as the opportunity. You can listen to this week's messages HERE.
Emmanuel is a church with nearly 100 years of history—mostly good, some difficult. It is a church with a large campus, a 1,300 seat auditorium, a 50,000 square foot building on approx. 13 acres. And the present church family represents a faithful core of believers who have weathered some amazing storms with steadfast commitment. In every meeting I was amazed at the hunger in this church family for new vision and servant leadership. God quickly knit our hearts together with new vision to grow forward.
The church also has a school ministry on a separate campus—about 1/4th of a mile away—in another 50,000 square foot facility on several acres. The school also has a great history, but has struggled in recent years. The staff of the ministry are a wonderful team of tremendous people—all eager to follow new leadership. God also knit our hearts together as well. I'm looking forward to serving Jesus with these people that He has prepared for the journey ahead.
Here's the best part of the story—the spiritual developments of the week. The photo above was taken after the Wednesday night service—as nearly every church member came forward recommitting themselves together, to obey God, exalt Christ, and move forward. It was a night we will never forget. Then today, to God's glory, we had two souls saved in the morning service, and several visiting families who we met in the community during the week. I pray it was a first fruit of much more to come, by God's grace.
People have told me that New Englanders are hard, cold, unresponsive, and closed. I have found quite the opposite to be true. Of the several dozen souls I witnessed to and invited to church this week, every single one of them were tenderhearted, kind, responsive, and interested in visiting Emmanuel. Some of them came this morning. I am convinced beyond measure that God has gone before us and that His Holy Spirit is preparing a harvest for this church family in the coming months and years.
After the morning service, we enjoyed a lunch and then a two-hour question and answer session—ending finally in the church vote. A few moments later, the church nearly unanimously voted for our family to come to minister with them. We gathered together, prayed, wept, and covenanted to follow God together. As of this writing, we are in full transition mode into the Senior Pastorate of Emmanuel Baptist Church and Emmanuel Christian Academy in Newington, Connecticut. (Some of today's videos are posted on Facebook by the church members.)
I can hardly believe I'm typing these words. The work ahead is overwhelming. The need is massive. The church family eager. We are in dismay that God would select us to take the leadership of this special work. We are amazed at the potential of seeing Him revitalize a church and fill one of the largest church buildings in New England for His glory in the coming years. That's not presumptuous—just faith. I can't—but I believe He can!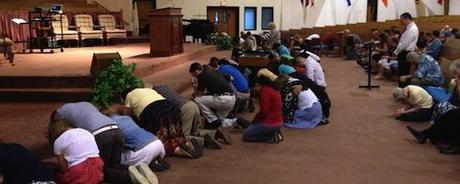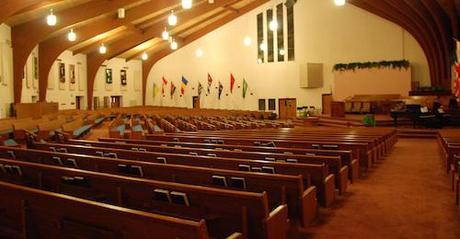 Pray for our family as we enter the difficult season of saying goodbye to friends and family that we love very, very much. Pray that God will meet our needs. Pray that He will give us wisdom in helping this wonderful ministry move forward to love Jesus, love each other, and love the lost! Honored, humbled, scared, speechless, and dizzy from the rapid way God has unfolded these events—I am grateful for your prayers.
If you minister in New England, I look forward to joining the team and striving together with you for the gospel in this needy region of America! Let me know where you are and how I can encourage you!