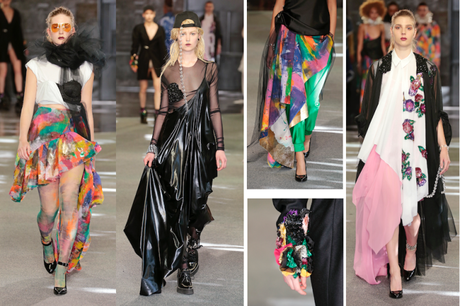 True Gold Fears No Fire by Chiara Siahaan
The next generation of designers. A large part of them is being bred in the very city I live in, at ArtEZ Institute of the Arts in Arnhem. A little while ago I attended the ArtEZ graduation shows where 21 students showed their collections. You definitely wouldn't say they were students though, the quality and uniqueness of collections was amazing. Every collection had it's own mark, but I was especially blown away by the amazing print-, patch- and handwork. My absolute favorite collection is the one shown above by Chiara Siahaan that had so many amazing details, applications, painted fabrics and loved how she used tulle in some of the looks. You'll definitely be hearing more of this girl, promise.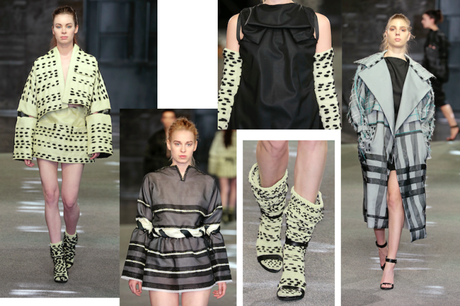 Download Fashion by Karin Vlug
Another favorite was the hand-stitched (!) collection of Karin that was both voluminous and detailed, and had really interesting patterns and handwork. She actually won the Frans Molenaar price for young designers, showing that she has a lot of potential to make it in haute couture. Love the look on the left – how cool is that jacket?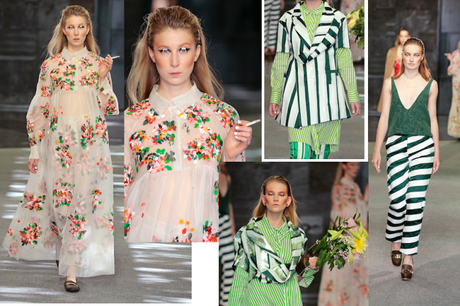 Louisiana Queens Valley Hotel by Adinda Anna Bongers
I'm not always a floral fan, but when florals are done really well over a mesh dress worn by a girl with such cool eye make-up smoking a cigarette, you've done something right. Also loved the different green stripe patterns put together and layered by Adinda, such a smart idea.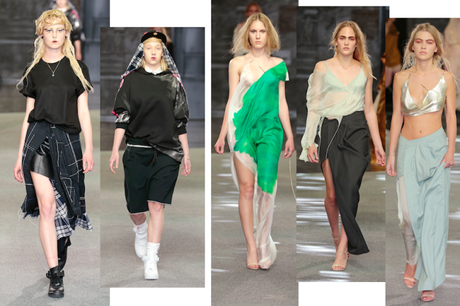 Feal the Fear by Nathalie Moens (1,2) & Don't Drop – Fragile by Susanne Venbrux (3,4,5)
2 other favorites were those from Nathalie Moens, who's collection I could actually see myself in (especially the looks pictured) since I'm a sucker for grunge and black and if you're sending your models out on Air Force 1′s, you win best shoe price for me.
Susanne Venbrux collection was one I loved looking at because of the silky smooth and transparent fabrics. Super feminine, super sexy in a very chic way. You should have seen it in motion!
all photos by Team Peter Stigter