This post contains affiliate links which means I receive a commission if you make a purchase using the links in this post.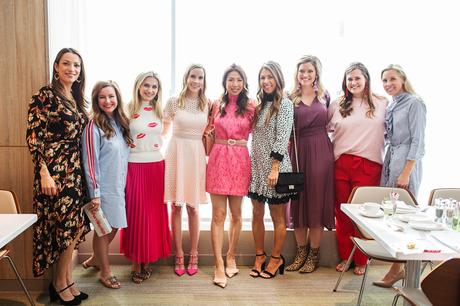 (L or R) Monica, Christy, Katey, Stacey, myself, Natalie, Michelle, Allie, Trisha (not pictured is Cathy)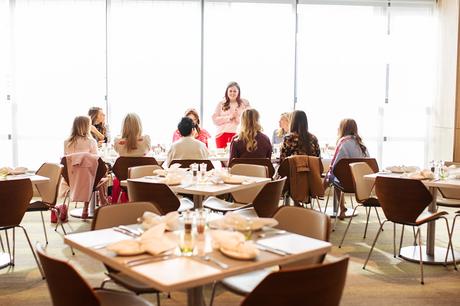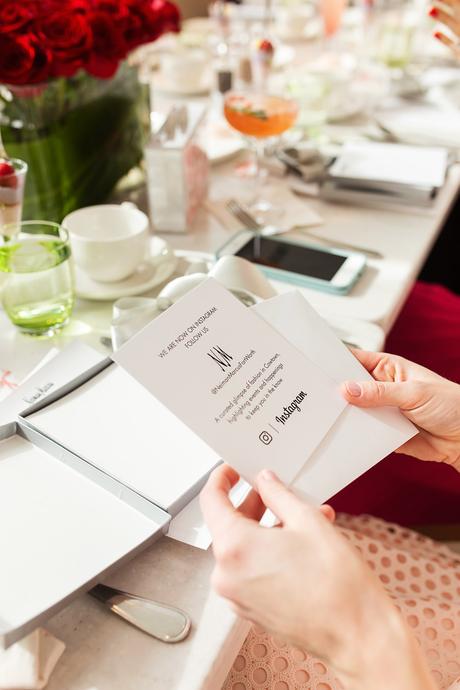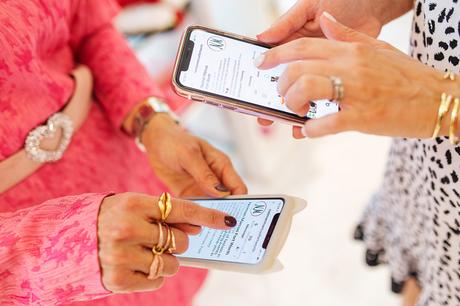 I'm SUPER excited to share another Spring Trends post. In case you missed it, here is LAST YEAR'S POST! Neiman Marcus hosted their second annual media brunch, and this year it fell on Valentine's Day. So of course, we had a fabulous Galentine's Day Fete while learning all about the upcoming Spring Trends!
Allie also had a big announcement for us! Neiman Marcus Fort Worth officially has its own Instagram Account! It's kind of big deal because of corporate things, and you should go follow them! You'll know all the latest and greatest that's happening in Fort Worth, plus you may see some familiar faces! ;)
#WhatIsYourStyleMood
Ken Downing knows what's going on in the Fashion Industry, and I ALWAYS look forward to hearing about Ken's Trends and his style picks. The most NOTICEABLE difference about this year's Spring Trends is that it is "theme" based. Basically, what is your style mood? I LOVE it because that is EXACTLY how I get dressed in the morning.
I dress for how I WANT to feel. And I believe that fashion should be FUN. I think that YOU should too! And these Style Moods encompass all of that! So without further ado, I present the five Spring Trends for 2019:
FREE SPIRIT // Basically it's the fashion noma who wears eclectic pieces appearing to have been collected all over the world. It's all about textures and prints that seem hand-made or with hand-woven details. Crochet, embroidery, velvets, and paisleys all speak to the modern way of hippie chic. You'll see shades of marigold and rich spices that take the lead.
COLORFUL PERSONALITY // Pantone's Color of the year is Living Coral, and Apricot is the new Pink! (Oh no! Why can't pink be pink forever! LOL!) . This style mood encompasses all shades from lilac to rich purple, marigold to yellow, dayglow neon to muted pastels and everything in between. Color speaks volumes.
URBAN SOPHISTICATE // It evokes the strong woman and includes any detail of tailoring, utilitarian details, and architectural pleats. The pantsuit is strong, and it's all about matching sets. It's the Material girl where uptown meets downtown.
GO-GETTER // The go-getter is a nod to the 90s and that certain hip hop attitude. Is she going to the beach? Riding roller blades along the boardwalk? Touches of athletic wear, such as scuba material or bodysuits, become the norm. Biker shorts are making a major moment on the runways, and I've seen them dressed with blazers. (REMEMBER: If a trend doesn't work for you, then PASS!! I will DEFINITELY PASS on the biker shorts thing! LOL!)
HOPELESS ROMANTIC // It's all about overt romanticism. Feminine prints and fabrics, such as floral, silk, lace and tulle make the mood. Accessories can be feminine pearls OR a contrast of a combat boot shakes things up. Nothing loves a ruffle more than another ruffle. Slip dresses and a nod to lingerie make their way to the wardrobe again
Can you guess which STYLE MOOD is my favorite?! First runner up is the Hopeless Romantic. The second runner up is the Free Spirit. The third is the Urban Sophisticate. You know I always LOVE a good matched set or pantsuit!
THE STYLE Rx (aka Lazy Girl Glam Tip): Don't be intimidated by the latest trends. What's your STYLE MOOD?! Dress for how you want to feel!
Okay, so now you get to see examples of each style mood!! I list what the models are wearing from LEFT to RIGHT (in case you see a must-have for your closet)!
FREE SPIRIT //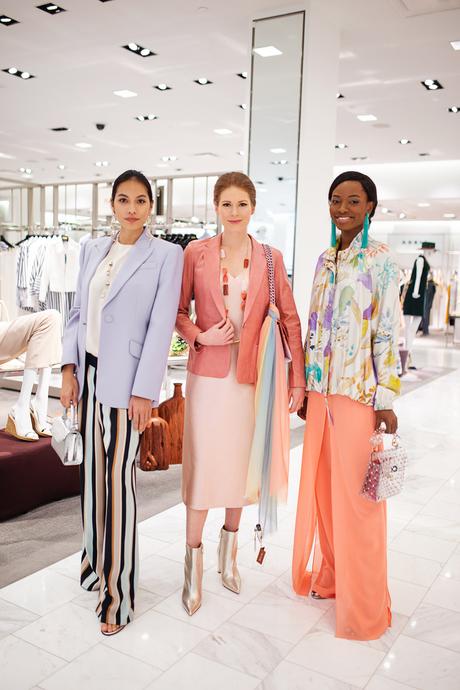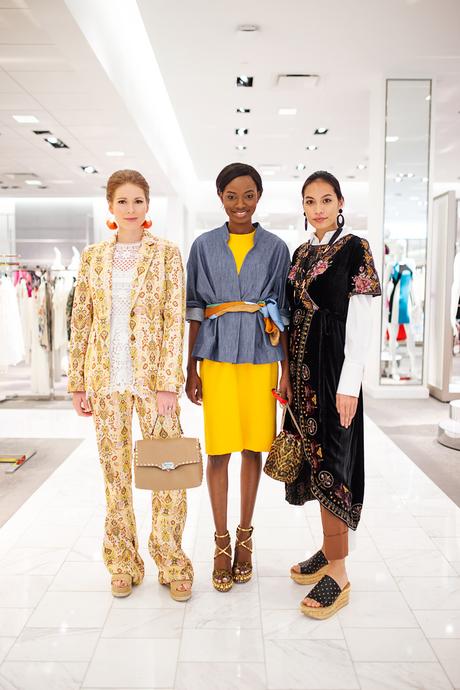 Etro paisley suit: jacket, pants, Tahari crochet top, Red feather earrings, Valentino handbag, Chloe espadrille
COLORFUL PERSONALITY //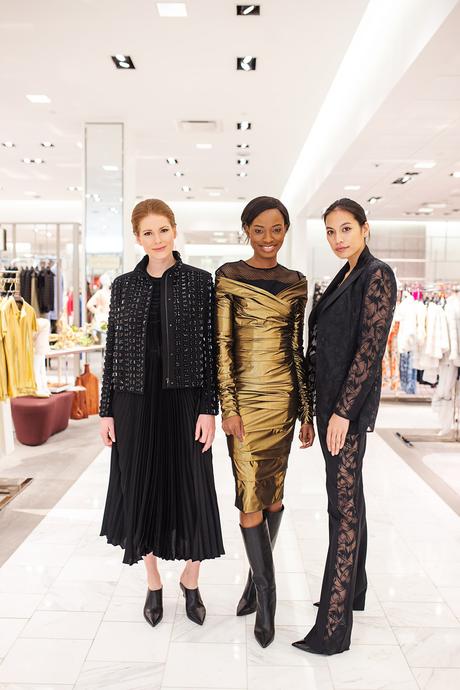 Alexander McQueen lilac jacket, Vince silk blouse, Lafayette striped pant, Earrings, Necklace $255, Valentino stud sandals, Nancy Gonzales bag
URBAN SOPHISTICATE //
Akris beaded jacket ( similar), Vince pleated dress, Stuart Weitzman mule
Dolce & Gabbana ruched dress, Akris punto mesh shirt, Gianvito Rossi boots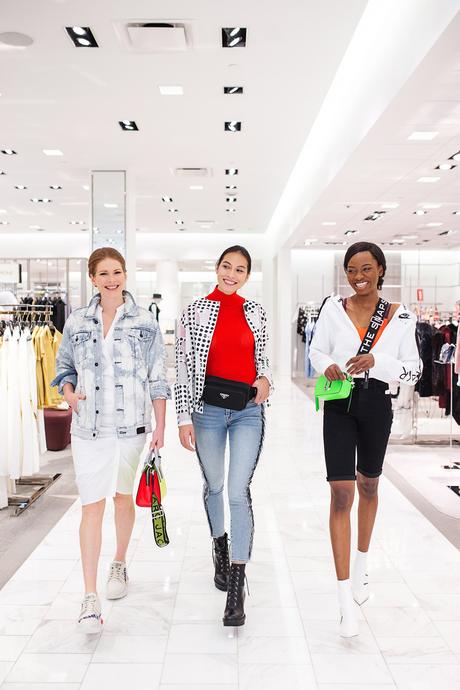 Akris lace jacket, Matching pants, YSL pumps
GO-GETTER //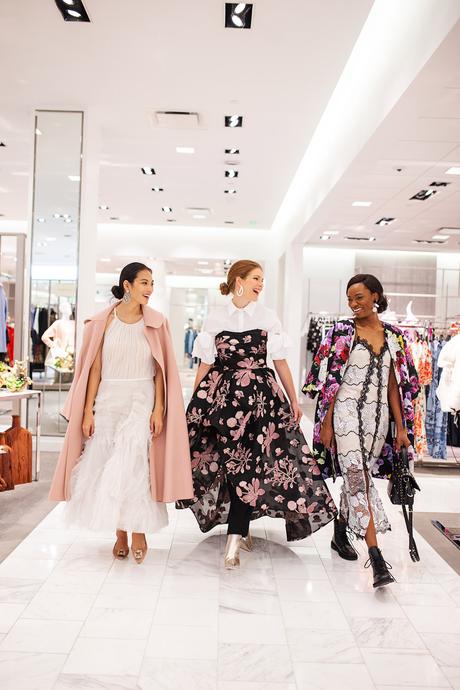 Veronica beard white dress, Jean jacket, Marc Jacobs bag, Fendi sneakers
HOPELESS ROMANTIC //
Oscar de la Renta wool coat, Marchesa Notte dress, Crystal Earrings, Manolo shoes
On this look which was my ABSOLUTE favorite, I wanted to point out some interesting details. Notice that is a beautiful full floral dress with one corner of the skirt tucked into the pants. And it's worn over a crisp white shirt! I LOVE LOVE LOVE how it completely changes the look of the dress and I am going to try this!
Marchesa Notte floral dress, Michael Kors White cotton shirt, Pearl hoop earrings, Tory Burch gold booties
HOPELESS ROMANTIC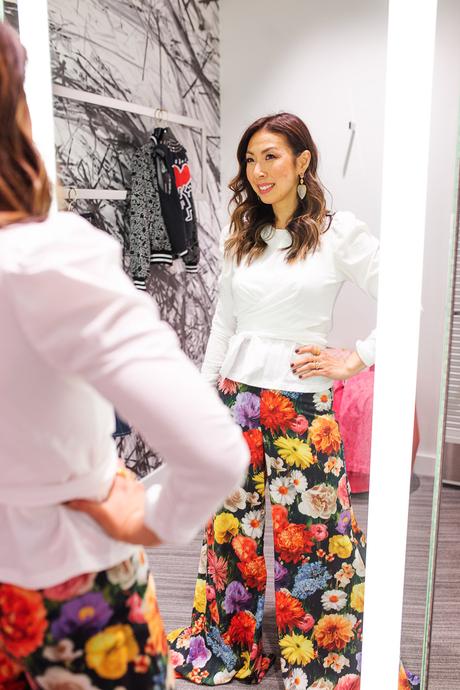 Dolce floral jacket, Elliatt Lace slip dress, Valentino combat boots, Valentino handbag, Earrings
FREE SPIRIT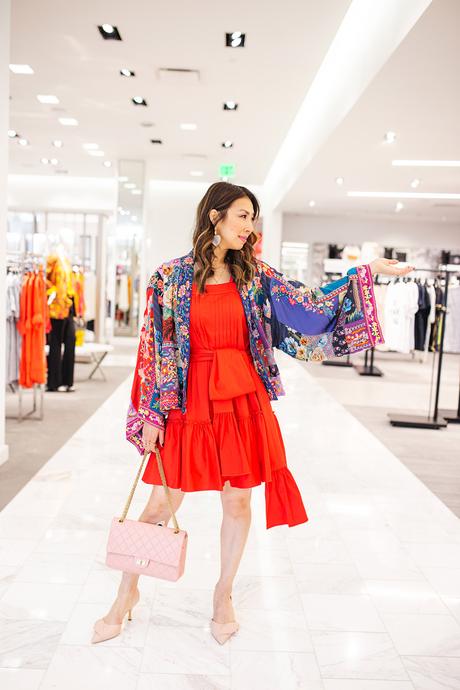 URBAN SOPHISTICATE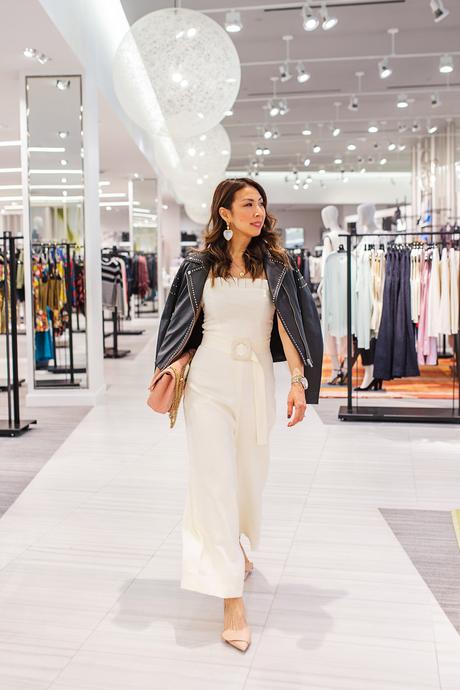 After the Galentine's Day presentation and brunch ended, we created outfits from our favorite Style Moods! Isn't that fun?! Here are my looks! Let me know if you think I did a good interpretation or missed the mark!
ALC top, Alice & Olivia floral pants, my own BaubleBar earrings, Sincerely Jules x Scunci headband
So what's YOUR FAVORITE STYLE MOOD??! I would love to hear how you are going to try this "themed" trend in Spring! Shout it out in the comments!
♥︎ ♥︎ STAY GLAM, DO GOOD ♥︎ ♥︎
Happy Friday Glam Fam! Even though my word for 2019 has been to SIMPLIFY, a lot of my life has gotten complicated so I want to apologize for the lack of consistent posts. I am not going to promise that it will get back to normal right now but I will try my best. Family happenings have taken a priority, and I've been spending a lot of my free time dealing with that stuff instead.
We have some family time this weekend, and I couldn't be more excited! That may sound boring, but simple is good! What do you have planned this weekend?
Thank you so much for stopping by and supporting SOS! I truly appreciate it!

JOIN THE #GLAMFAM // SIGN UP FOR THE NEWSLETTER BY CLICKING HERE.
// FOLLOW ALONG //