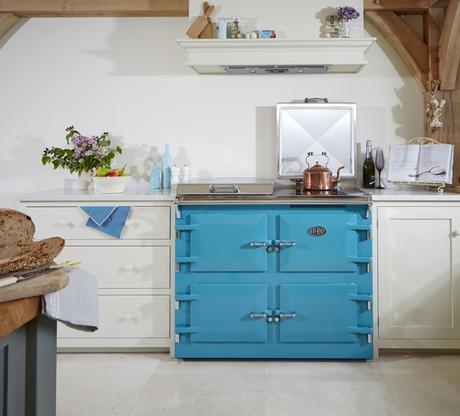 Oh I am such a dreamer!!  When I worked at the manor I had a beautiful big kitchen to cook in and  a lovely big range to cook with that also served to keep the kitchen toasty warm in the wintertime.  Oh how I wish I had a big kitchen like that now.  I love to dream about what I would do if I did have a large kitchen, and one of the first things I would do is to get would be one of these gorgeous  NEW Teal Cookers from Everhot!   I am feeling giddy just at the thought of all the goodies I could cook up with this beautiful cooker!  I love the option of chrome hinges and handles . . .  against this pretty teal colour, they make  a bold and striking statement!  Just gorgeous!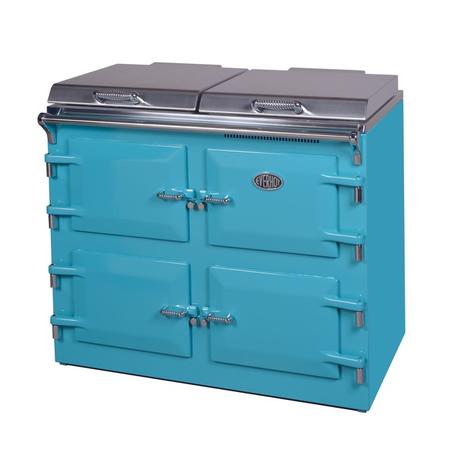 Everhot's handbuilt cookers are the most energy efficient heat storage ranges on the market. Using less than half the energy of an equivalent comparable range cooker, Everhot cookers gently warm a kitchen using electricity, making them quick to switch on or off, easy to install, well suited to running off solar or other forms of renewable energy and, above all, great for cooking.
The option of having an induction hob alongside a traditional hot plate, as well as a grill, has made Everhot cookers popular with everyone from professional cooks to busy parents. Whether you want to bake bread, grill vegetables, slow-roast a leg of lamb or just get some pasta on the table as quickly as possible, there is nothing which an Everhot can't do. With a wide choice of sizes and models there's an Everhot to suit everyone and every kitchen. Lower energy bills and absence of any servicing costs only add to its appeal.
Built to last a lifetime, an Everhot can easily be taken with you when you move home – forever enhancing its place at the heart of family life.  This would be a real bonus in my books!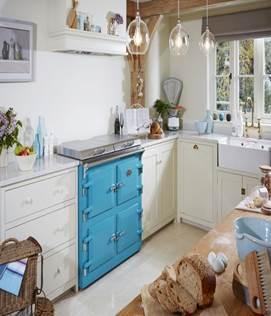 The first Everhot range was built more than 35 years ago at Coaley Mill in Gloucestershire. The aim was to develop an efficient heat storage range which would make use of the water turbine installed by the owner, Ossie Goring. While Ossie still lives at the mill, his son, Guy, now runs the business.
Everhot's passion for conserving energy has led to the whole company being carbon negative.   These lovely cookers are built to last a lifetime, and thanks to an in-house installation team, a robust design and traditional British craftsmanship there is usually no need for servicing.  The cookers are also available in nine other colours: Black, Graphite, White, Cream, Green, Sage, Blue, Burgundy and Aubergine.
I do love this Teal one however  . . .  and it matches the colour scheme in my kitchen perfectly.  At a cost of £7,530 it is going to remain on my wish list for a long time to come . . .  sigh . . .  but as they say,  you've got to have a dream before you can make a dream come true!!