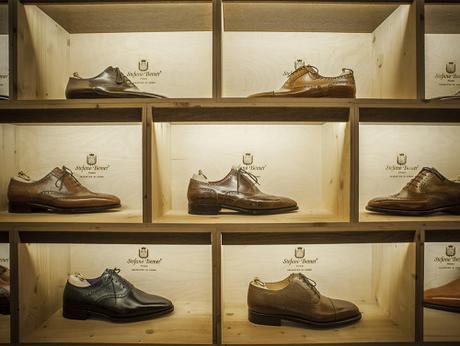 It's been four years since Stefano Bemer passed away. As many are aware, Bemer was widely considered to be one of the best shoemakers in Italy, if not the world. Operating out of his workshop in Florence, Italy, he both trained apprentices and made top-end, bespoke Italian shoes that were as striking as they were elegant. 
Since his passing, the company has been taken over by Tommaso Melani, a fellow Florentine whose family has been in the leather goods business for several generations now (see his other company, Scuola del Cuoio). Under his management, the Stefano Bemer brand has gone global. Melani travels through Asia and the US with his trunk shows, and has set up a new showroom in NYC (it opens next week at 23 E 67th Street, in the penthouse level of the building, although interested readers will have to email [email protected] to make appointments). Over lunch a few weeks ago, Melani told me that he has his eyes set on opening showrooms in other cities, although plans are tentative. 
Perhaps the biggest change is the expansion of the company's ready-to-wear and basic MTO/ MTM line, which offers customers a chance to try the company's shoes at a more affordable price point than their bespoke offering. The main difference between the RTW shoes and bespoke, aside from the level of customization, is that these have machine-stitched soles and hand-stitched welts, whereas the bespoke line is fully handsewn. They're also partly made in Ferrara, while the bespoke range is fully made in Florence (although Melani tells me everything is done by his employees only – not outsourced to other companies). 
It's natural to be skeptical when any bespoke shop starts building a brand, but Melani's efforts strike me as a way to broaden Bemer's audience while still remaining reasonably true to standards. For those who weren't able to travel to Florence during Stefano Bemer's lifetime, his work was largely only appreciable through a computer screen. Prices still aren't cheap – even in the RTW range – but they arguably represent a better value than many top-tier Goodyear welted lines. The closely cut waists are a much more sophisticated way to build in shape than just creating pointier lasts, and the different tiers of customization (there are five) allow customers to move from basic changes in leather and color to fully bespoke shoes with custom built lasts, soles, and heels. 
I've been thinking about getting one of the apron stitched derbies, pictured directly below, which I first saw on Brio's Instagram. Stefano Bemer will be back in San Francisco sometime in the next couple of months for a trunk show at The Wingtip. I'll be there to flip through swatches. 

(photos via Stefano Bemer, Brio, Stuart Szerwo, Fit for a Gentleman, Yong Moon, and Maslow So)