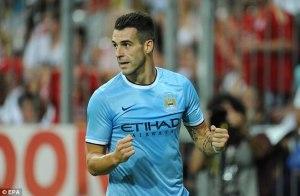 Back when I was Editor of New Nation I decided to run a piece to mark the start of the football season by getting editorial staff to give their predictions for the top and bottom of the Premier League. So imagine my dismay when most staff tipped my team, Manchester City, for relegation. In fairness it was probably just an opportunity for them to blow a raspberry at their boss, and happily City finished the season comfortably mid-table. As for most people's tip for the top – Chelsea never got anywhere near winning the league that season.
It's that time of year again when, for football fans, hope springs eternal. At least until the first 45 minutes of the opening game. For City, though, we've never looked stronger and have added good pre-season buys while the unmentionables from across town have largely stood still. Alvaro Negrado (pictured) and Jesus Navas look particularly handy, and Brazil's first-choice holding midfielder, Fernandinho, has much promise. Whether it all gels under a new manager, Manuel Pellegrini, remains to be seen. The new gaffer certainly has big shoes to fill after the departure of the much-loved Bobby Manc.
Anyway, here's my predictions for the coming season which I'm sure people will remind me about when things turn out completely different as they always do!
THE TOP
City to win it if they can juggle the strike force of juggle Negrado, Aguero and Dzeko to best effect and not change our playing style too much. No surprise that the nearest challenges will be coming from a quality Chelsea side which just lack a little bit of firepower and the Old Enemy who have long over-performed under Ferguson but now have to live without him. If any side is going to threaten the big trio it is Liverpool. They've been dreadfully inconsistent for ages but with Coutinho settling, Luis Suarez still there and Danny Sturridge, new signing Iago Aspas, the old warhorse Steven Gerrard and the promising Raheem Sterling they should push past north London.
ALSO RANS
Much as it pains me to say, but Nazi-loving Paolo di Canio's Sunderland could well push for a European place this year. They've been very busy in the market and look to have tightened up at the back while Italy and Juventus winger Emanuele Giaccherini could add some missing spark going forward. Other than that, it's difficult to look past Arsenal and Tottenham. It's been all quiet at the Emirates other than the Suarez transfer-that-never-was but Paulinho at Spurs is an exciting prospect however they still look over-reliant on Defoe and Bale to finish the job.
MIDFIELD MUSH
Everton, Fulham, Swansea and Southampton all look good bets to win some and lose some in just the right proportions to be safe. Aston Villa are a better bet that the shambles they were last season. They're still young but a year older and Christian Benteke will probably stick it out for another season while Andreas Weimann continues to improve. Norwich City's new buy Nathan Redmond complements an already strong squad with John Ruddy, Robert Snodgrass and Luciano Becchio but they still look woefully short on goals. Newcastle United could end up anywhere, to be honest. Pushing for Europe, mid-table safety or fighting relegation, the St James's soap opera never ceases to surprise.
DANGER ZONE
West Ham have got to be in trouble this year and Andy Carroll and Stewart Downing are unlikely to get them out of it. I can see West Brom running out of steam especially now they've lost Romelu Lukaku back to Chelsea.  Crystal Palace will be down the wrong end for sure but a good start under Ian Holloway might just save them for a season at least. They may have lost Wilfred Zaha but they've still got Yannick Bolasie. Hull City also have a decent shot at surviving, just. They have few stars but quite a few grafters and Steve Bruce is a good manager. The most likely of the new arrivals to go down is the team that ran away with the Championship, Cardiff City. The red bluebirds have too many players who have already failed to rip up trees in the Premier League in seasons past.
DEAD CERT FOR DEATH
Stoke City, finally. No Tony Pulis and no significant buys all adds up to the Potters being potted. Cue celebrations.
THE CHAMPIONSHIP
The second tier has already kicked off, of course, and Watford are top already.  I predict they'll stay in the top two and be joined by Wigan Athletic who have the best squad in the division. 
Other than that any team could end up in the playoffs, it's that even. QPR and Reading will have a good shot. If I tip anyone else it will be Ipswich Town, Bolton Wanderers and, more out of hope than expectation, Nottingham Forest.
Clubs that won't get prompted include Leeds United, Blackburn Rovers and Birmingham City, all in various stages of mismanagement, chaos and despair.
Once again I can see a tight fight at the bottom. Every year I hope Millwall sink but they keep escaping the trapdoor. If any big club is heading down it's Sheffield Wednesday who would then be playing the Sheffield derby in the third tier as the Bramhall Road club won't be passing them this year.