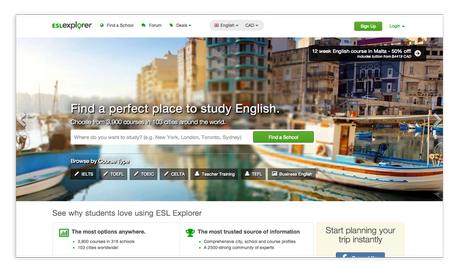 Since day one, ESL Explorer has strived to create a transparent marketplace for English-language schools. It is a place where students can share their honest opinions and personal experiences abroad. Since our beta launch in June, our community has grown rapidly and we've received valuable feedback from around the world. Thanks to our amazing community of students, we are excited to announce a set of new features and a simpler user experience that make it easier to book a perfect study abroad experience. Say hello to the new and improved ESL Explorer!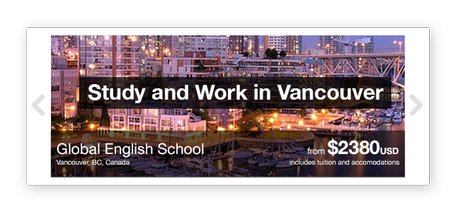 Welcome to packages
Researching and booking destinations, schools, courses, and accommodations individually can be over-whelming… and expensive.  To make it easier for students, we work with schools to offer simple all-in-one packages that combine high-quality courses, accommodations and even internships at special prices.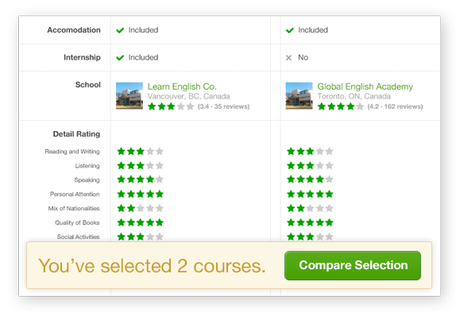 Easily compare cities, schools, and courses
One of the most difficult things a student must do before they study abroad is compare the many options.  We've built a tool that allows side-by-side comparison of our 103 cities, 316 schools, and nearly 4000 courses. Not sure where to study? Compare cities on the basis of cost-of-living, public transportation, nightlife, safety and more.  Not sure which school best fits your needs?  Compare schools on their ability to teach reading, writing or speaking, the social activities that take place, the classroom size and diversity, and much more.

Payments through Stripe
We're thrilled be able to switch to Stripe as our new payment gateway after they recently launched their services in Canada. Developing with Stripe was really easy and allows us to bring increased security and peace of mind to our students when booking their courses online.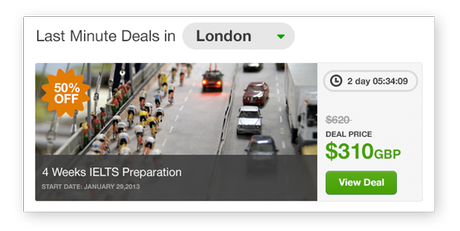 Introducing "last minute deals" in London, England.
Price is often an important concern for students.  In attempt to help relieve some of this burden, we explored various online savings models of the hotel and travel industries to see if any would apply to English education.  We came up with Last minute Deals. It's a simple concept.  Top schools occasionally have unsold seats in their classrooms the week before the course start date.  To fill these seats last minute, they use ESL Explorer to sell them at deep discounts.  The school name is revealed only after the purchase, but students get their language course at 50-60% off.   New courses are featured each week, with start dates typically on the following Monday. In October this year, we introduced 'last minute deals' in Vancouver.  Due to the immense success of the campaign, and the incredible student feedback, we are now bringing last minute deals to schools in London, England!