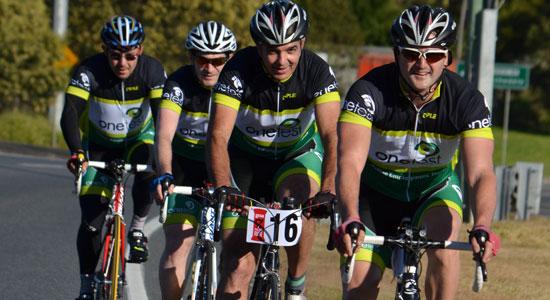 For some of us, July of each year sees work colleagues turn into the living dead. The ones you avoid in the afternoon due to the lack of sleep from watching the Tour de France coverage on SBS till 2am in the morning. These same creatures could also be rising before the sun  to replicate the showmanship of the night before on their 2 wheelers with their MAMIL friends (Middle Age Men in Lycra). Caffeine is their friend for 21 days and sleep becomes a distraction.
The Tour highlights the good and bad in sport. Take away the outer skins of allegations and charges of drug taking and what you are left with is a very tactful, team focused race, which sees daily milestones achieved to execute an overall strategy for victory in Paris. Bringing out the best in people, their specialty (whether time trials, hill climbing or descending) culminates to an overall net effect for the team. This applies to work and life in general.
In June, Onetest entered 2 teams in a charity race event (GOA 7 Pillars for Motor Neurone Disease). Our process of team selection was no different. We identified who was good in hills, who was good on the flats and who needed more support on endurance rides. Identifying weaknesses and complementing skills with the right support was the key to getting a good net outcome.
Our work environment is no different and it starts with the recruitment process. Identifying and predicting future behaviour and skills before the placement, even if all the boxes are not ticked, allows for better planning and development for any new recruit in a team. Knowing how they acquire, retain and apply information and their likely approach in situations can be complementary to get the most out of them and the group. Identified areas of development can be worked on over a period of time to make them the Cadel Evans of the team (so long as they don't start wearing lycra to the office!).
So how did we go you ask? After 5 hours, 130km and 1500m of climbing. The 2 teams finished 4th and 5th out of 24 and only 8 minutes apart.
For those in Brisbane who would like to join Onetest employees and representatives on regular group rides leaving from Park Road Milton, drop us a line. 
Vive Le Tour and bring on the caffeine!