Latest on Manziel? Per multiple sources, he'll be suspended for first half of season-opener versus Rice on Saturday.

— Billy Liucci (@billyliucci) August 28, 2013
Slow the fuck down NCAA!  Don't go hurting his chances of throwing 8 touchdowns versus Rice.  Jesus, has there ever been a dumber play by the NCAA, wait, don't answer that question.
Via NBCSports: "The NCAA has been investigating Manziel since reports emerged that he had been selling his signature, which would violate the rules of the NCAA's brand of amateurism. There has been no formal announcement of exactly what that investigation unturned, but the half-game suspension suggests that the NCAA has no proof that Manziel actually sold his signature, but that he also didn't take any steps to prevent others from selling his signature."
So, just so we're clear, Manziel was found to not have sold his signature, but because he didn't stop any nutjob in College Station or beyond from selling it means he sits the first 30 minutes of the first game of the season.   Rrrrriiiigggghhhttt.  That makes perfect sense.
Better yet, Texas A&M was selling his photo as they were releasing the story of his pending suspension.  Check out the pic!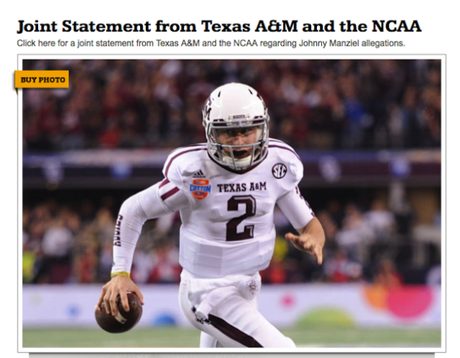 Go ahead and purchase that photo, maybe Manziel will get suspended for the third quarter.  What a total crock of shit the NCAA is.  And even worse, we all know that Manziel has to be on super secret probation since there was no way they weren't going to let him play against Alabama.  The NCAA needs that game more than any game this year.  Remember, A&M were the only team to beat 'Bama last year and it's the matchup everyone's been waiting for.
Once again the NCAA shows that they don't abide by any rules.  It's a strictly do what needs to be done organization.  As long as papa is getting paid, they don't care what happens.