The Nature's Co
1) Father's Day Special - FLAT 50% Off
"Some people don't believe in Heroes... they indubitably haven't met my Dad ! "
I'm sure this is definitely what we all want to shout out for our real life super heroes, who have worked so hard majority of their life to give us all the happiness we have ever wanted and surprised us with more - Our Fathers. Let's make the most of this International Father's Day by gifting him the much needed exquisite pampering with the luxury of indulgence from The Nature's Co.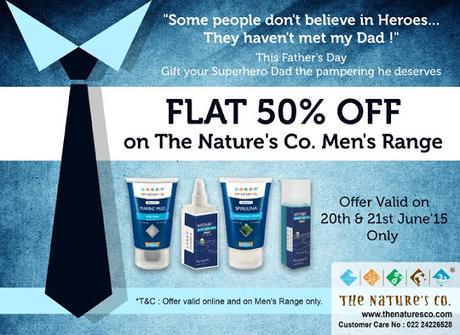 Brightening up this occasion of showing your unconditional love to your No #1 Daddy, The Nature's Co. bestows a
FLAT 50% off across all Men's Range on the 20th and 21st June 2015
. Dazzle your Dad with grooming essentials which come with a twist of pure natural & vegan ingredients of watermint, spirulina and marine mud which have been meticulously sourced and recreated in convenient, modern forms that are practical, hassle free and innovative. These soothing masculine scented products specially made to calm down the roughness and toughness of men skin come in different variants of an everyday facewash to mosturizing cream and a shaving foaming gel to after shave balm.
Simply the best deals even for those last minute surprises your planning for your dad exclusively at
www.thenaturesco.com/Subcategory/Mens.aspx
 to make Daddy's Day!
So don't wait and wow your dad to treat him to the best he deserves!
2) Now Released - July's "It's raining beaut!" The Nature's Co. BeautyWish Box
With the monsoon blues hitting you very often, you might want to be dwelling in the seasonal changes that keep you rejuvenated every now and then. It's okay if you forget to take care of your health and body for quite some time. But you dare to forget the whole season? The answer is a perfect NO, as you know you need to take extra care of your skin, hair and health.  As you can find noticeable changes in weather, taking formidable steps would decrease your efforts as the season continues - and this is where The Nature's Co. steps in to help you! 
Now as the monsoons are in full swing, it is crucial to alter your beauty care regime. We share a complete guide on how to take care of your skin, hair, hands and feet with this July special 
"It's raining beaut!" Beauty Wish Box
With the changing weather, you also have to change your skin care routine. The damp and humid weather takes a toll on your skin — no matter what your skin type is. Pollution, dirt, grime and the harmful UV rays of the sun are the main reasons why your skin is prone to damage during the rainy season. It is these six* natural beauty products articulately shortlisted by TNC Experts which will replace your skin care regime this season to make you glow midst the dark gloomy clouds. 
This special care is offered at a cost of Rs. 595/- only with complimentary goodies, comes in an attractive reusable packaging and with the convenience of cash on delivery option once you order.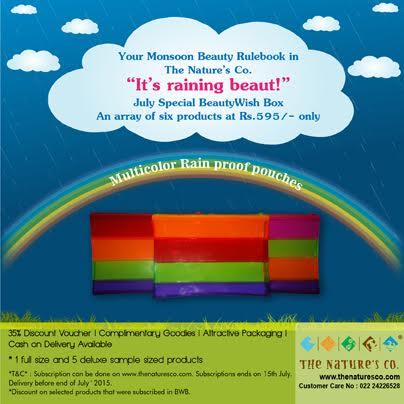 Our experts share "It is extremely important to take care of your skin during the rains. Even though the temperature is cooler, a whole new set of problems —greasy skin, flaky itching skin and acne arecommon at this time." So banish all your wet season woes and subscribe now for the July Box at 
http://bit.ly/1t243wj.
*Six products include One Full Size Product and Five Deluxe Sample Sized Products.
3) The Nature's Co. - Monsoon Carnival with "Buy More and Get More" 
Yes it is finally raining and pouring! And so are the discounts at The Nature's Co. as they announce their Monsoon Carnival with a whooping "Buy More Get More" offer. This irresistible deal provides all you beauty addicts to indulge in your favorite monsoon beauty must-haves with a straight 
Rs. 200 slash on purchase of Rs. 1000, Rs. 500 off on products worth Rs. 2000 and Rs. 900 flat discount on purchase of products worth Rs. 3000 and above
.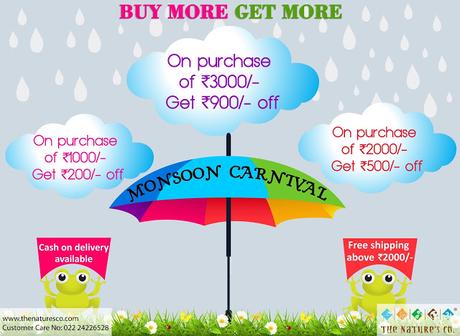 Now not only was your summer vacation time, but also these monsoons make a good time for all you beautiful people to buckle up and set out on a shopping spree with your exhaustive beauty shopping lists without actually needing to face the cons of this weather outside! This offer is exclusively available for The Nature's Co. Online Shoppers by simply clicking on
www.thenaturesco.com
, all through out this season.
And this is not just it, it gets better as
you can avail free shipping of your orders of Rs. 2000 and above
. Truly unbelievable as you save more while you spend more instead of burning a hole in your pockets. So as The Nature's Co. has rightly added the silver lining to this season's gray clouds - Make most of it and shop till you drop before it's too late!
4) Limited Edition Launch: Bold & Stylish Travel Kit
For all those on the move or feeding their wander lust - a splendid must-have of your beauty essentials while you travel. All this in a light weighted, compact, trendy and chic pouch - to also keep you in vogue.
Yes, you heard that right! 
The Nature's Co. launches their Limited Edition range of Bold & Stylish Travel Kit
 which comes as an ensemble of everything you need to take care of your skin, hair and body all naturally while your in trasit. Not only that, 
TNC experts include the below seven products in a sassy and sleek travel friendly pouch, all this priced at Rs. 695 only
: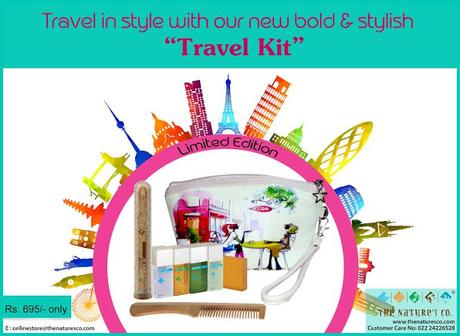 Watercress Shampoo (35ml)
Watercress Conditioner (35ml)
Lavender Lotion (35ml)
Lemongrass Body Wash (35ml)
Lemongrass or Patchouli Soap (35gms)
Cinnamon Bath Salt (75gms)
Afro Wooden Comb
Check what TNC's Founder and Beauty Expert has to say, "Travelling often means changing climates, temperatures or sitting inside a train/car/airplane that has limited air circulation. Hence, it is all the more key to take good care of oneself with a few handy products. Keeping the needs and requirements for a healthy, glowing skin whilst travelling, we have introduced a unique kit that contains the essentials for all travellers. The kit is compact, stylishly deisgned & can easily be put into your hand bag." This kit can be ordered by getting in touch with The Nature's Co. on their website
here
So here ladies, be fashionably beauty equipped while you travel care-free!
Website: 
www.thenaturesco.com
www.facebook.com/thenaturesco