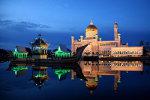 Sultan Omar Ali Saifuddin Mosque
Despite only occupying a tiny portion of Northern Borneo, Brunei is the 25th wealthiest country in the world, primarily due to it's richness in natural amenities like oil. However, much of this tiny sultanate remains undisturbed and undeveloped with roughly 80% of it's natural forest still remaining.
The native people of Brunei enjoy a tax-free life in a country covered by tropical rainforest and mangrove swamps, and often have an incredibly close connection to the nature that surrounds them. Brunei's natural habitats also extend beyond the jungle into glorious bright white beaches that lead into the South China Sea.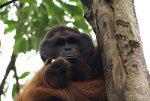 Male Orang-utan
The island of Borneo itself is the third largest in the world and is home to some of the world's most unique animals that can be found nowhere else on the planet. Brunei is no exception with it's small yet untouched expanse of natural forest providing homes to some of the island's most iconic and endangered animals.
Brunei's forests are home to some of the rarest animals in the world including the seldom seen Otter Civet, which is an aquatic mammal that was first filmed in the wild as recently as 2010. Other Endangered species found in the country include the Asian Elephant and the unique Bornean Orang-utan.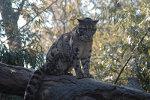 Clouded Leopard
Another of Brunei's most famous native species is the Proboscis Monkey, which has one of the most distinctive features amongst primates with the males having an elongated nose. There are numerous Vulnerable species also found in the forests of Brunei like the rare Clouded Leopard, and even the elusive Dugong can be seen out at sea.