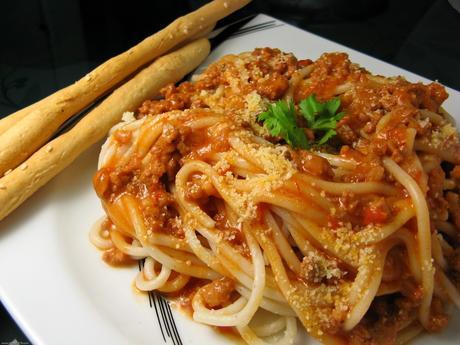 NEWS COPY
By Rick Maughan
The Sunday roast is fast becoming the last bastion of British grub - as more people expand their menus with foreign tastes and flavours.
Six out of 10 adults now prefer more ethnic and adventurous dishes than meals which are thought of as traditionally British, according to a new study commissioned by spicy food company Santa Maria.
The typical Brit's dinner table plays host to meals from up to six different countries during the week, including Mexican, Chinese, Italian and Indian dishes.
In many households, the Sunday roast is the only occasion when a traditionally British dish sees the light of day.
Fajitas, chilli con carne and lasagne finished high on the list of Britain's 40 best-loved foreign dishes, with spag bol taking top spot.
The poll of 2,000 people also found British palates are growing increasingly adventurous - eight in ten serve up meals from all over the world.
While two thirds of Brits said they find worldly cuisine more flavoursome than traditional British dishes.
Yesterday Bhavika Thakrar, Marketing Manager at Santa Maria, said: "This research tells us that the discovery of new tastes and flavours from around the world is a priority when it comes to Britain's taste buds.
"Food lovers are relishing the opportunity to take more culinary journeys without leaving the kitchen. As a result we're seeing foreign tastes and flavours, including Mexican favourites fajitas, tacos and enchiladas, rapidly becoming firm family favourites.
"With sixty per cent of those studied encouraging their households to try as many foods as possible, it's an exciting time for the nation's palate.
"And the adventure is only set to continue as a variety of food fusions, including Tacos al Pastor, wait in the wings ready to shake up the gourmet scene."
Other international dishes making regular appearances on British dinner tables include chicken tikka masala, chow mein and tortillas.
Thai curry, enchiladas and burritos are also becoming go-to dishes of choice.
And perhaps that's why more than half of those questioned felt British food can be a little dull.
Over 40 per cent of those studied said foreign dishes like stir fry, curries and fajitas were actually easier to get right than traditional meals.
And 45 per cent would describe themselves as adventurous cooks.
While more than three quarters of Brits felt they are more adventurous in their food choices than their parents ever were.
And it's an increasing trend - two thirds of parents said their children enjoy eating more exotic foods.
While over three quarters of those polled felt that in years to come we will all be eating more foreign cooking than food that could be originally considered traditionally British.
Bhavika Thakrar added: "The journey of more exotic tastes and flavours will continue around the world as modern technology continues to advance.
"This will allow globetrotting foodies to instantly tweet pictures of a street food taco shack in Mexico City or Instagram rows of intricately painted sugar skulls for Day of the Dead celebrations. This will allow us all to consume these foods 24/7 without even eating it for ourselves."
BRITAIN'S FAVOURITE INTERNATIONAL DISHES
1. Spaghetti Bolognese
2. Meat lasagne
3. Chilli con carne
4. Pasta and homemade sauce
5. Fajitas
6. Chicken/lamb tikka masala
7. Vegetable stir fry
8. Sweet and sour chicken
9. Spaghetti carbonara
10. Chicken chow mein
11. Pesto and pasta
12. Meatballs and tagliatelle
13. Chicken/lamb korma
14. Tortillas
15. Thai green curry
16. Sweet and sour pork
17. Lamb curry
18. Vegetable lasagne
19. Caesar salad
20. Crispy duck
21. Beef stroganoff
22. Lamb Rogan josh
23. Greek salad
24. Enchiladas
25. Tacos
26. Burritos
27. Cannelloni
28. Moussaka
29. Stir fried chicken and cashew nuts
30. Pesto chicken
31. Thai red curry
32. Gnocchi
33. Chicken/lamb pasanda
34. Chicken stroganoff
35. King prawn balti
36. Lamb tagine
37. Moroccan Lamb
38. Peking duck
39. Spicy chicken soup
40. Grilled pork sticks
ENDS
International Dishes