The Names Of The Twin Messiahs Are Out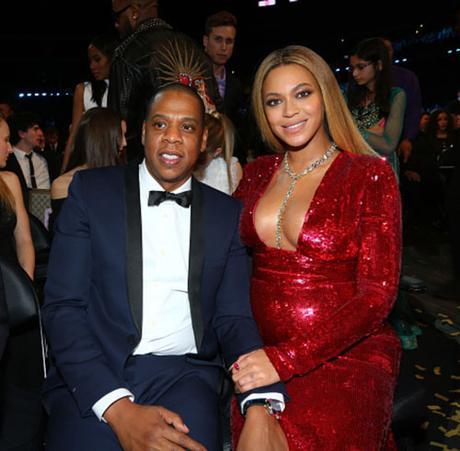 If you had the names Quatro and Rouf (Four backwards) in your office's Beyonce baby name pool, your Fourth of July weekend just started off real shitty, because you got it wrong. Nearly two weeks after the twin Jesuses were born, TMZ, E! and People all believe that Beyonce and Jay-Z may have named their babies Rumi and Sir Carter. If you're in the Bel-Air area and heard the loudest boom, that was just from Kanye West and Kim Kartrashian's egos exploding while thinking that Beyonce and Jay-Z copied the name Saint by naming one of their kids Sir. And Rumi is probably happy that they didn't get the name Ma'm Carter.
TMZ thinks that the twins are named Rumi and Sir Carter because Beyonce and Jay-Z's company filed papers to trademark those names for everything from perfumes to baby stuff to water bottles. They tried to do the same thing with Blue Ivy Carter but ran into legal problems. Nobody from Team Bey-Z has confirmed those names, so Beyonce and Jay-Z could be trying to throw everyone off.
Rumi is the name of a famous Persian poet from the 13th century, so TMZ thinks Bey-Z may have named one of their twins after him. TMZ also thinks that they got the name Sir from one of his poems:
"Bring the pure wine of
love and freedom.
But sir, a tornado is coming.
More wine, we'll teach this storm
A thing or two about whirling."
Beyonce gave birth to a boy and a girl, but I don't know which one got the name Rumi and which one got the name Sir. If I was Sir Carter, I'd be begging Rumi to switch names with me. Poor Sir. That baby's been forced to be a dom. Not only that, but the kid's name sounds like a Lisa Vanderpump restaurant! And not even the nice one, Villa Blanca.
I feel Sir's pain. Nearly every other boy who was born in the 70s or 80s got the name Michael. So not a week goes by when I don't turn around after hearing my name in the store only to find out I'm not the Michael they were calling. So I can only imagine the whiplash that Sir Carter is going to suffer from while turning around every time they hear the word "sir."
Actually, now that I think about it…
Having the name Sir Carter wouldn't be so bad. Every time Sir is out in public and Beyonce or Jay Z calls their name, they can say in front of everyone, "That's right, I got THEE Beyonce and Jay-Z in check like that, you better call me Sir!"
Pic: CBS/Getty
Source: The Names Of The Twin Messiahs Are Out
8 total views, 8 views today