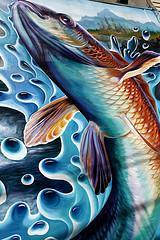 photo : Nico Crisafulli
The ancient Styrian town of Murau is at the heart of migration for endangered species of freshwater fish, like the Hucho hucho and terrific Teiman.
Project Murerleben
Between 2003 and 2007, a massive 2.2 million euros was pumped into a conservation project on the river Mur around Murau. The Murerleben project was a scheme to rebuild damaged areas of the riverine landscape to facilitate the migration of the endangered species of fish found in its clear, fresh waters.
A  fish by-pass at Murau has been constructed, allowing more than 90 kilometres of migratory clearway for these wonders of the waters. 4.6 kilometres of tributaries around Murau have been provided for safe spawning and wintering for the endangered fish species.
A further 2.8 million euros is to be invested in the second phase of the project between 2010 and 2015, for the protection of this most important riverine landscape.
Fishing on the Mur river
Licensed fishing is allowed on the river Mur, though Brown Trout and Grayling are not to be removed. But that doesn't mean the avid angler wastes his time on the water. A maximum  of 2 Rainbow Trout (between 30 – 40 cm) may be taken for personal consumption!
For further information in relation to fishing the river Mur near Murau, contact tourist information here.
And if you want to take advantage of the wonderful fishing opportunities on the  river Mur, don't hesitate to get in touch. Chalet Lowonahill is ideally placed for a fabulous alpine fishing holiday.