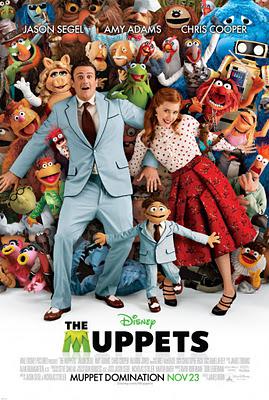 Normally I'm not the movie review type, but this movie triggered so much nostalgia that I feel I owe it to the Muppets themselves to write about it.
Directed by
James Bobin
and written by
Nicholas Stoller
and
Jason Segal
(also starring Jason),
The Muppets
follows the journey of 'Walter' (voice of
Peter Linz
) who grows up admiring his big brother Gary (
Jason Segal
) and who devotes his life to supporting The Muppets, who he dreams of meeting one day. When Gary and his girlfriend of 10 years, Mary (
Amy Adams
) decide to take a romantic holiday to Hollywood, it was no surprise to either Mary or Gary that Walter would also come along.
The trip lands them at Muppet Studios, which they discover is going to be torn down by a greedy salesman. After a brief time, they decide to take the problem to someone they hope will be able to help - Kermit (voice of
Steve Whitmire
). Kermit and the trio then set out to reunite the Muppet gang so they can put on one last show in order to save their studios.
What I loved about this movie was that it didn't try to use 'ordinary humor'; what it used was so much better - corny quips, songs and jokes. For those of us who grew up with the Muppets, to try and make the movie anything like children's films from today would have simply ruined it. The Muppets WERE corny, even back in their heyday. But we loved them just the same, just as we love them now, in this modern-day revival.
Some of my favorite parts:
When Walter wanders into Kermit's old office at Muppet Studios, and we see old-time photos plastered across the walls of some of the prior guest stars. Photos of Julie Andrews, Florence Henderson and a couple of previous Presidents can be seen, as well as others that I have forgotten but were important nonetheless. The flashback was the first of many tributes during the movie, and one I simply loved.
The epic romance of Kermit and Miss Piggy. Truly, it was a romance none of us could forget, and one that we happily re-lived all over again. To top it off, there was a Kermit and Miss Piggy duet at the end, in which they sung "Rainbow Connection": a classic and an old-time favorite. Superb.
The consistent joking and heckling by Statler and Waldorf. The movie would not have been the same without these two making ridiculous jokes in the background. You cannot have the Muppets without Statler and Waldorf - that would be like Superman without Lois Lane.
The guest stars. It was part and parcel of the Muppets to have guest stars on their show - and the movie was no different. Guests included Jack Black, Chris Cooper, Rashida Jones, Ken Jeong, Zach Galifianakis, Jim Parsons, Selena Gomez, Whoopi Goldberg, Neil Patrick Harris, Emily Blunt, Kristen Schaal and many more. I was both surprised and delighted at how many more actors there were in this movie than I expected.
The music. Cheesy and reminiscent to the core. Loved it.
The song between Gary and Walter and their 'man/Muppet' alter egos. There were white suits, Jim Parsons as 'human Walter' and a Muppet version of Jason Segal, which was too good to be true. I will say no more, but it was the highlight of the entire film for me.
Overall I was highly impressed with the outcome of the 2011 version of The Muppets. There was very little to critique, as I felt the film captured the essence of who and what the Muppets were to those of us who followed their journey when we were younger. I don't feel as though the movie would appeal to the younger generation of today (I saw a lot of children squirming during the film) as much of the humor was directed at those who knew the Muppets and understood their classic jokes and personalities. But as a 23-year-old who is still a kid at heart - I adored this movie. It made me laugh and cry. Congratulations to the Writers and Director: you did us old-timers a great service.