It wasn't easy, but I think I've finally done it! I've found the most romantic place in all of Europe!
Every Friday night the AQUA DOME Wellness Hotel, located in the Ötztal Valley in Austria, turns its three levitating futuristic bowls into a moonlight bath.
Guests can go early and watch the sunset disappear behind the mountains or show up a little later for some star-gazing. Naturally we had to check out all three of the pools; the whirl bowl, the sulphur bowl and the brine bowl, which was my favorite with its underwater music and light effects.
It's the most romantic place I've ever been to and the perfect way to start off a romantic getaway from Munich.  The pools are open until midnight every Friday, throughout the year.  I'm told it's even more beautiful in winter with the snow reflecting off the mountains.
Take a look and you'll see what I mean: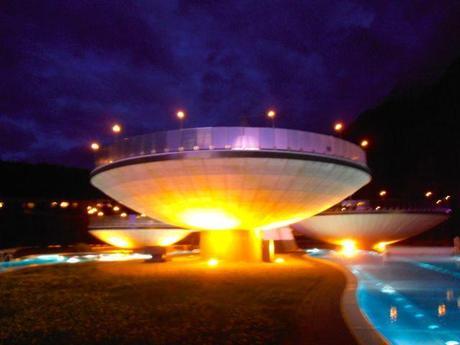 Three levitating pools are light up every Friday night for the moonlight bath.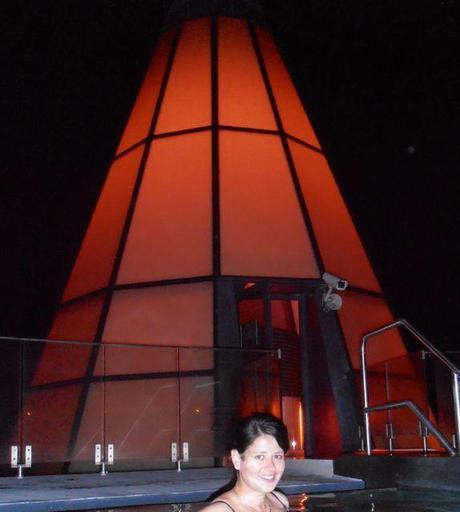 Me taking a quick break from romance for a photo opp.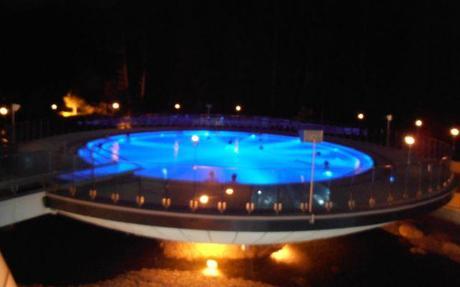 The brine pool which features lighting effects and underwater music.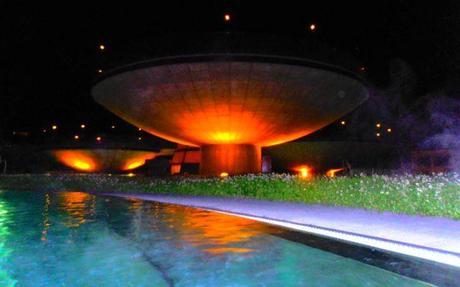 If that doesn't say romance I don't what does.  Within minutes of checking in, we slipped into pure relaxation and romance mode thanks to the moonlight bath. Fortunately the AQUA DOME will also keep you entertained during daylight as well.  It's the nicest and largest spa I've ever to.  You can read about the review I wrote about it here.
I have a feeling we will become Friday night regulars.
Know Before You Go to the Moonlight Bath at AQUA DOME:
The moonlight bath is offered every Friday night year round, even in winter. (The pools are heated)
AQUA DOME Wellness Hotel is located in Längenfeld, Austria, ~200km from Munich.
Find more info/book your stay at AQUA DOME  by checking out their site.

Thank you to the AQUA DOME Wellness Hotel for making my visit possible.  As always, all opinions expressed are my own.