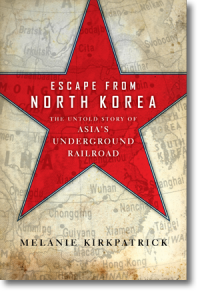 Among the Kindle Daily Deals yesterday was a book entitled Escape from North Korea: The Untold Story of Asia's Underground Railroad by Melanie Kirkpatrick. It was well-timed to a news story about a Korean War Veteran, Merrill Newman, whose video statement as a prisoner of the DPRK was released the same day. Anyway, I bought the book and I'm hooked. The stories it contains are a mix of chilling and thrilling.
As I began reading, I wondered why no one had made a major Hollywood blockbuster based on an escape from North Korea. It's a journey fraught with peril. There's so much to go wrong from being shot in the back crossing the Tumen River to being repatriated to being double-crossed by smugglers to falling into the hands of traffickers or other predators. Adding to the challenge is the fact that most North Koreans are severely undernourished, and each is on his or her own for the first part of the trip–getting across the border. Furthermore, it's not uncommon for North Koreans to stick out physically because they're unusually small and, as pointed out by one of Kirkpatrick's sources, prone to bad hair and split ends.
I know these are words that writers despise but the screenplay practically writes itself.
Then I remembered, oh yeah, this will never be a movie because China's government would be one of the villains, and Hollywood isn't in the business of making films that PO the Chinese any more. Why is China the villain? Well, it's not the main villain. That distinction, of course, goes to the Kim dynasty, presently personified by Kim Jong Un–who has been the biggest bastard yet when it comes to escapees. China's policy is one of repatriation. It would be kinder for China to just execute the North Koreans themselves. One of the stories early in the book is about an entire family that was to be sent back who–having eaten their first decent meal in a long time–decided to die full and committed suicide while in Chinese custody. Lest one think that this is a Communist thing, Kirkpatrick points to Vietnam as one of the countries that quietly helps North Korean escapees get to safety. Like the democracies that do so, Vietnam keeps this on the down-low to avoid cheesing off the Chinese, but at least they do it.
Why would such a movie be good? Because everybody needs to know what's going on, and movies are the surest injection point into the public consciousness. There have been books and documentaries about this for years, but I don't think most people realize how bad it is.
I should point out that there have been films on the subject. The Crossing, made in South Korea, is probably the most well-known feature film on the subject. It's about a father who crosses the border to get medication for a wife, but ends up stuck on the other side of the border during which time his wife dies and his boy becomes–for all intents and purposes–an orphan. This film is apparently based on a true story.

And there have been a number of documentaries on the subject. The Defector: Escape from North Korea is one of the best.

This is the book trailer for the Kirkpatrick book.

By B Gourley
in
Books, China, Commentary, film, Korea, movies, News, Opinion
on
December 2, 2013
.