I can't recommend enough visiting Yala more than once.  I was fortunate to go three times and each visit was a different adventure!
What I loved about visiting Yala with AYU in the Wild is that they focus on what you see. If you happen to see a leopard that's great, but they're not going to go chasing it. That's a huge issue in Yala and something I saw many other jeeps doing, much to the disservice of the leopard. It would inevitably get annoyed by the roaring engines of the jeeps and the not so quiet tourists asking the drivers loudly, Can't you get just a little closer? From my observations, I felt that many of the other companies were getting to close, especially when it came to leopards and elephants.  Ayu in the Wild has a different philosophy, the welfare of the animals are the first priority, you getting the perfect shot is the second.  Not to say that they don't highly value the visitor experience, as they do, but they do so while keeping a respectable distance.  I think you'll see from my photos below, that I was still able to get some great shots!
Yala is home to a bird lovers paradise with 215 bird species.  Six of them are endemic to Sri Lanka.  The best time to visit is between November and January when you will see migrating species as well: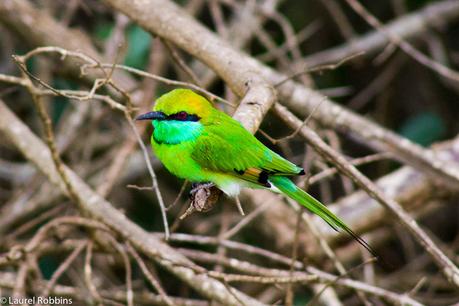 The Green bee-eater is one of the most common birds of Sri Lanka. If you hear a chirp that you don't recognize, it's a safe guess that it's a Green bee-eater.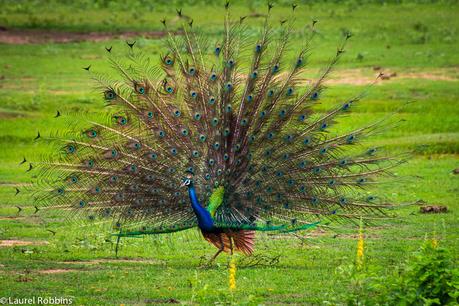 The peacock may look pretty, but it is loud!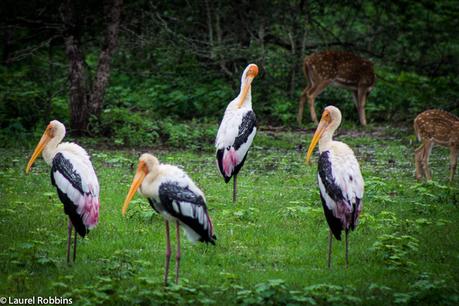 Painted storks are large colorful birds which feed mainly on fish. They catch them by moving their half-open mouths through they water and look as if they're nodding their heads "no".
Yala is home to an elephant herd that numbers between 300 to 350.  I saw elephants on each of my three visits, but not in the huge herds that I saw in Kaudulla National Park in the north.
In addition to elephants, there are 44 mammal species in Yala National Park.
I knew my chances of seeing a sloth bear weren't very high, and the odds worked against me.  That's why I appreciate AYU in the Wild's philosophy so much – appreciate what you do see, and be open for whatever wildlife adventures may come!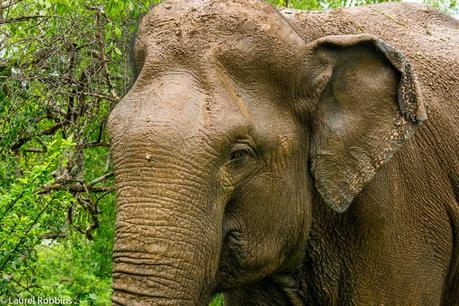 While you will see larger herds of elephants, elsewhere in Sri Lanka, you can also spot them in Yala National Park. We watched this young male feed for about 10 minutes.
Here are three of my favorite unexpected sightings in Yala: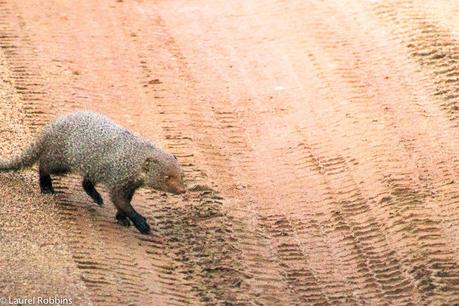 The ruddy mongoose is endemic to Sri Lanka and India.  It was my first time ever seeing one!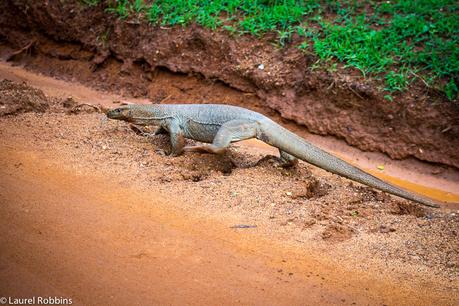 A huge lizard crossing the road in Yala.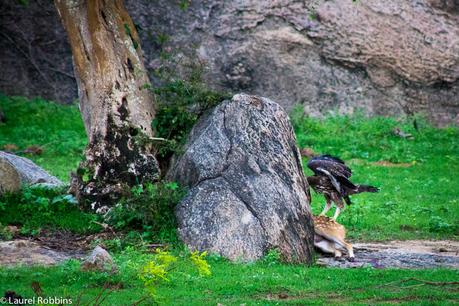 A vulture feeding on a deer carcass in Yala reminding me of the circle of life.
I also LOVED hanging out with the Toque macaque!
While macaques are the widest spread primate on earth, next to humans, the Toque macaque is only found in Sri Lanka. I immediately felt a bond with them since toque in Canada is a winter hat! Plus, I loved watching them stuff their mouths as full as possible, so much so that at times they could hardly chew! But heh, I get it.  I'm possessive around food too!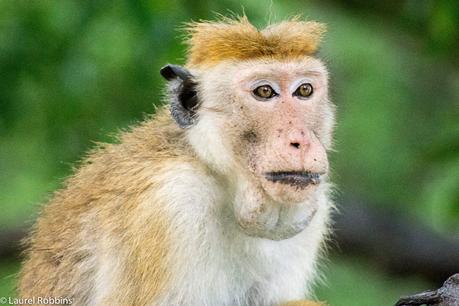 The Toque Macaque is a monkey endemic to Sri Lanka. Besides Yala, they're frequent visitors to temples.
More wildlife sightings in Yala National Park: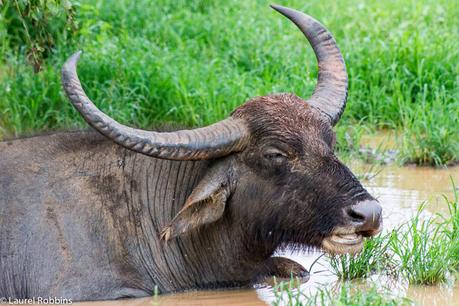 A water buffalo keeps cool in Yala National Park, Sri Lanka.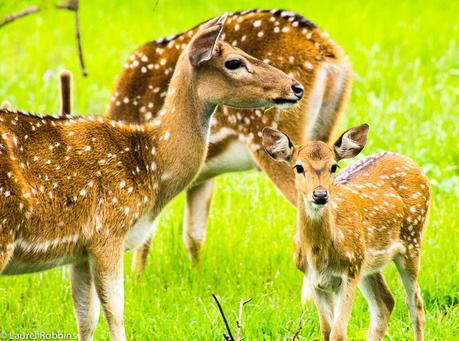 The Sri Lankan axis deer is a subspecies of axis deer and is endemic to Sri Lanka.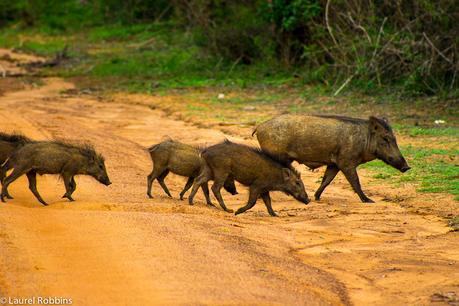 Wild boar crossing a road in Yala. They can be aggressive, so it's a good idea to keep your distance.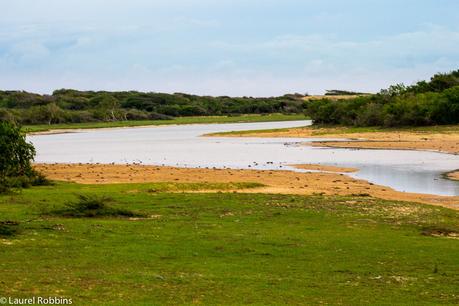 The geography of Yala as such that it meets the sea!
I loved each of my visits to Yala and highly recommend it, but please go with a responsible tour operator – one who respects wildlife and won't get too close. And remember to focus on what you do see – not what you don't see in the true spirit of adventure where anything can happen!
PRACTICAL INFORMATION ON VISITING YALA NATIONAL PARK
You need to visit the park with a guide.  While it is possible to go with a guide from the park, often it's a better option to go with a private guide who have often had more training and are more knowledgeable.
As mentioned, I visited Yala with AYU in the Wild.  In addition to Yala, we also visited a local farmer and I learned how to make coconut sambol, my favorite Sri Lankan dish. There are so many local experiences that AYU in the Wild provides that you would miss if you were on your own. AYU in the Wild provides tailor-made holidays around family travel, slow travel, special interest and wildlife.  Once you tell them what your interests are, they will suggest customized activities for you to choose from, things you won't find in guidebooks. I traveled with Chamintha, one part of the husband and wife team that comprises AYU in the Wild. She was one of the loveliest people I met in Sri Lanka. She really cares and wants you to fully experience Sri Lanka, not just check a bunch of sites off your list. I truly love their philosophy and can't recommend them enough – you can read my full review here!
I stayed at Wild Trails Yala, which is conveniently located just a few minutes drive outside of Yala. They offer four tented safaris and outdoor dining!  It's glamping at its finest! One of the highlights was dining just steps away from a leopard's favorite sunning spot! If you visit Yala with AYU in the Wild, they will arrange all your accommodation for you.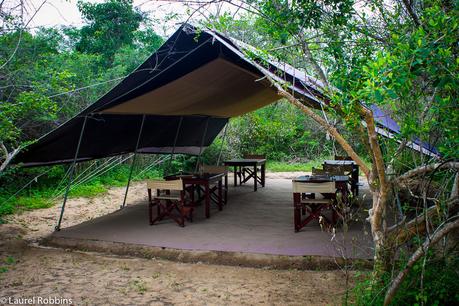 I stayed at Wild Trails Yala, a tented safari just outside of Yala National Park. This is where you eat, just steps away from a favorite sunning spot for leopards – so cool!
Thank you to AYU in the Wild for making my visit to Yala National Park possible. As always, all opinions expressed are my own and based on my experience.