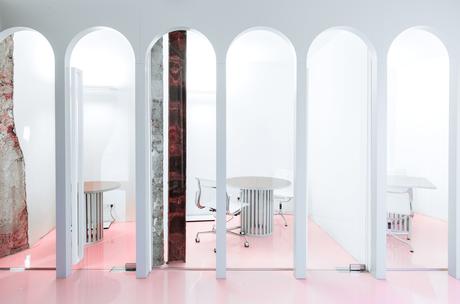 An office Crosby Studios designed for NGRS in Moscow.
Photo by Evgeny Evgrafov.
Crosby Studios
Location: Moscow, Russia
Education: Stavropol Regional Art College
Here comes the young designer, carrying his old chairs. For Harry Nuriev, who hails from the trading city of Stavropol in the North Caucasus and is now based in hyper-paced Moscow, staying grounded has been essential. It's cost him some sweat and tears, but also helped forge his young studio. In just under two years, his practice, Crosby Studios—named for a flash of inspiration he had while walking along Manhattan's Crosby Street—has completed commissions that include workspaces, cafes, and even penthouses.
"First it was the issue of how to switch out Italian chic for Scandinavian minimalism," says Nuriev, recalling earlier work with Dmitry Vorontsov, his studio partner who now handles the business and production side of the venture. Though the studio initially had a hard time convincing locals of its minimalist aesthetic, the designer has held strong to his design vision and lets clients come to meet it. "I let the history stay in the space," adds Nuriev, who often reveals a structure's preexisting elements, then juxtaposes them with the new—as in a beauty parlor they renovated, for which they kept the structure's original 19th-century flooring intact, filling in areas with pink patches. "The old material helps the new material to be meaningful."