As I was settling in to life post-cancer I was starting to accumulate many instances when people asked to talk to me about my experience.  This was usually because they knew someone close to them that had just been diagnosed like a friend, sister, cousin or whatever and they wanted to help them.  They wanted to do something and didn't know what to do or where to start.  They often asked me because they knew I had just been through it.  I did my best to answer their questions and offer suggestions and advice based on my own experience.
It is so much better to talk to someone that has first-hand information rather than just reading about it in a book or online.  When I was first diagnosed I had called my friend Jenn because she had just been through the cancer ordeal.  It was probably the best info I got.  She is my college friend that was diagnosed at age 35.  By the way she has since gotten married and they have a beautiful young son!  At one time it was thought that might never be possible.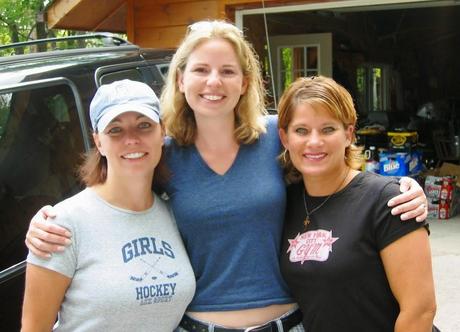 Jenn, Julie and me - Fall 2003 (before cancer)
One day in February 2009, on Family Day of all days, I got a call from our mutual friend Julie.  I just about fell over when she told me that she too had just been diagnosed with breast cancer!  Julie had just had their second child and was still breast feeding for goodness sakes!  How could all three of us at such young ages who were all healthy and active women just all of a sudden end up with breast cancer???  This was just so wrong.  She was breastfeeding and found a lump.  Can you believe that?  Wow.  I was in shock but did my best to answer her questions and told her I was just a phone call or email away for anything at any time.
I could not get over how often how this cancer monster was rearing its ugly head.  Maybe because I had gone through it myself I was more aware now than ever about it. Not a day went by that I didn't hear the name of this monster.
Even now there are friends and family of mine that are dealing with recent diagnoses and it breaks my heart and makes me so angry.  I am sending prayers and positive vibes to everyone out there reading this that has been personally touched by cancer.  Especially to my cousin Eddie and his family and to my friend Erin and her husband Peter who is starting out on his cancer journey.  And to two other women that I just heard about in the past 24 hours! They are all on a journey that nobody wants to take with a monster that nobody wants around.
Stupid effing cancer.
The Monster - Eminem and Rhianna