South Asian newspapers and online media, whether they are published in South Asia or abroad for the diaspora, are famous for one thing: The Matrimonial Ads Section.
It is through this section that parents venture out beyond the world of the immediate contacts and the 'marriage broker' to seek potential partners for their children. Sometimes it is the partner-seeking person themselves who put out these ads.
I have to concede that I had not taken a hard look at these matrimonial advertisements for a long time, but during a trip to India years ago, I was beset by boredom and decided to go through the Matrimonial section of a leading newspaper's Sunday edition.
Matrimonial Ads Still About "Fair" and "Boy/Girl"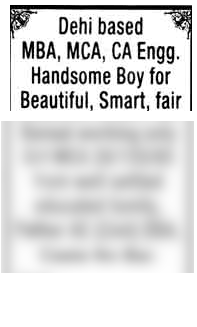 A Matrimonial Ad
For one thing, one factor that has not changed was that the parents always consider their child to be "fair-skinned". In fact, a report published in the websit e LanguagesinIndia analyzed the evolution of the language used in matrimonial advertisements, and found out that the obsession with "fair skin", along with "slim", has been prevalent at least since the thirties.
Furthermore, the potential bridegroom could be 20, 25, 30 or even 35 but he will always be a "boy". Same thing with the female too, she will always be a "girl".
Evolution of Matrimonial Ads
But beyond that, I realized how the matrimonial section has become more specific. For example, besides the major societal divisions like religion, language and caste, and the sub divisions like a Hindu from a particular caste, there are now more sub divisions, and then sections for newly emerging classes, not castes - all to make the life of a parent easy.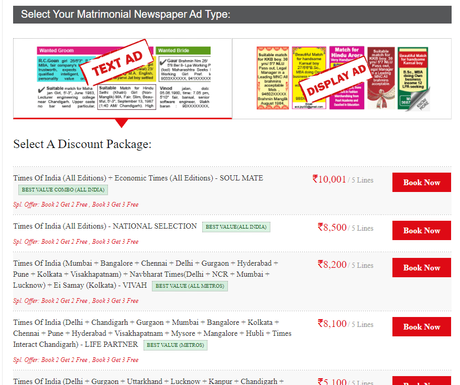 Times of India Matrimonial Ad Package. Courtesy: Times of India
For example, as one would expect, the Brides and Grooms sections had the major groups, such as Punjabis, Tamils, Hindus, Christians, Muslims, Sindhis, Gujaratis and, of course, Brahmins. As expected, there are the sub-divisions. For example, a Tamil could be a Hindu or a Muslim. And a Tamil Hindu could be from the Brahmin caste or from the Chettiar caste. Or one could be a higher caste Christian (yes, Christians do have castes).
But, imagine you are a Tamil Brahmin parent who wants a spouse for their child who should ideally have an MBA? Or work for the government? Well, go to MBAs/CA (I could not understand the reason behind the joining of these two under one section, though), or Government/Defence sections. Or do you want a CKP or an engineer? Well, there are separate sections for each of these. And of course, there are also sections for Software Professionals and the much-talked about NRI/Green Card Holders.
And some other interesting groups I found: Cosmopolitan, Second Marriage, Scheduled Caste/Tribes and Disabled.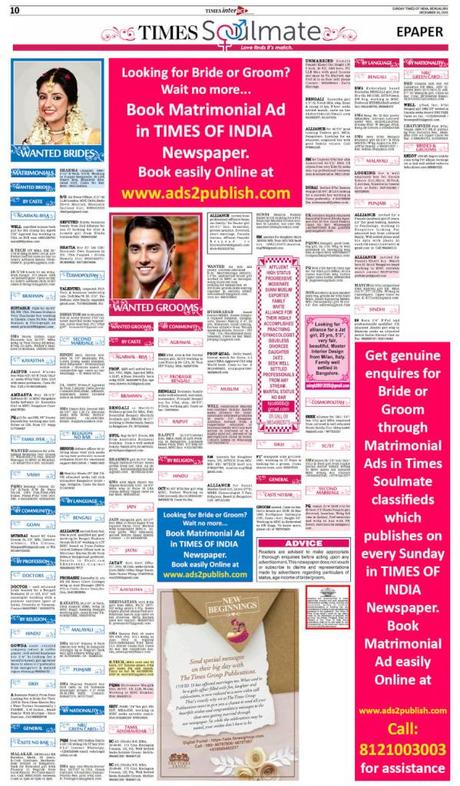 Times of India Matrimonial Section. Courtesy: Times of India
The Art of Matrimonial Ads Writing
A good advertisement should exude a great "matrimonial writing" expertise - kind of "Strunk & White" for matrimonial. This includes adding as many adjectives as necessary to describe the partner seeker, and then, to keep within the word count, make short codes that should be easily understandable.

A Matrimonial Ad
For the reader, one needs to keep up with the short-hand codes. For example, GC holder could mean (US) Green Card holder and PR holder could mean (Canadian?) permanent residency holder. Similarly, "send BHP" means send "biodata", horoscope and photo (to ascertain whether the applicant fulfils the degree of expected "fairness" or "wheatnishness") and SC means, I guess, India's scheduled castes. Similarly, "edu" stands for education but then there are codes like PQ, M4 (it seems this means "match for"), PG (post graduate?) and so on.
But if you are confused about the short codes, don't worry because there are mini glossaries, such as this, just for this purpose.
New Categories Ideas
After giving some thought, I came up with the following sections that should be added: Nouveau Riche, Authors/Writers (Indian writers are making waves), Film Artists (with such a huge industry across the nation, one should have this section), Indian-born but working in the West for national/global Banks/corporations, Indian-born and working for GAFA (Google, Apple, Facebook, Amazon), and founder of a startup. Last, one could add the ABCDs (the not-so-friendly American Born Confused Desi).