Today I'm introducing Candice,
The New Modern Mom
who I've met on Twitter. As my son turns 20 today I wondered how new moms today use technology to be a mom. Candace explains this in her guest post today.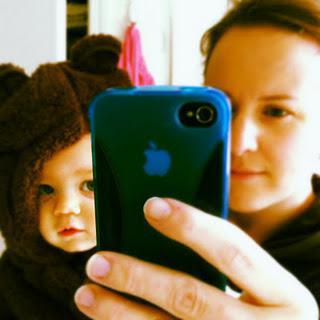 When my daughter was first born, I had a Blackberry and thought I was so advanced! Not to say there is anything
wrong
with a Blackberry. Not too long after her arrival I was eligible to upgrade to the iPhone 4 soon after its debut. Now, as a "new modern mom" I am constantly checking into the latest must have mom
apps
for my iPhone. I thought I would share with my top 5 FREE mom must-have apps!
1. If you are a photo lover then check out
Instagram!
You can either snap a photo with the app camera or choose an image from your photo library and then transform the pic by choosing a filter. Once you have edited your image (or not) send it to Facebook, Twitter or Flickr. Instagram lets you follow anyone in the world and also have followers. I have lots of Instagram mommy "friends" and really enjoying watching their children grow from day to day. You can see my stream at
@cmm2279
.
2. If you like anything, cooking, crafting, clothes, ideas, home-making, DIY, art, etc. then you should check out
Pinterest!
"Pinterest is a virtual pinboard that lets you organize and share all the beautiful things you find on the web. People use pinboards to plan their weddings, decorate their home, and organize their favorite recipes. Best of all, you can browse pinboards created by other people. To get started, request an invite!" I have become very attached to this app and have made several delicious recipes and crafts that have been shared.
3.
Twitter
– enough said!
4. Parenting Ages & Stages. I like this
app
simply for the recall alerts. With all the toys and whatnot floating through my home I can't keep up with the news about what might have been recalled. Once there is a recall I get an alert right on my screen as if I were receiving a text message. I don't even need to open the app! Easy pea-sy! "The Parenting Ages & Stages app brings one of Parenting's most popular magazine features to life for mobile moms and dads. With parenting guides from newborn through school years, the Ages & Stages app provides the most targeted information on child development and parenting milestones."
5. How often to you find yourself running to the store to get baby basics? Well, I don't. I am an
Amazon Mom
which means I get FREE 2-day Prime shipping of all my baby essentials for 1 year. It is free to join and its even better to have the app on my phone so send orders! My diapers and baby food always arrive when I need them and no driving around from store to store when I could be playing with my daughter.
I hope you find my list useful and if you have any suggestions or have your own favorite iPhone apps please feel free to leave a comment or email me @
[email protected]